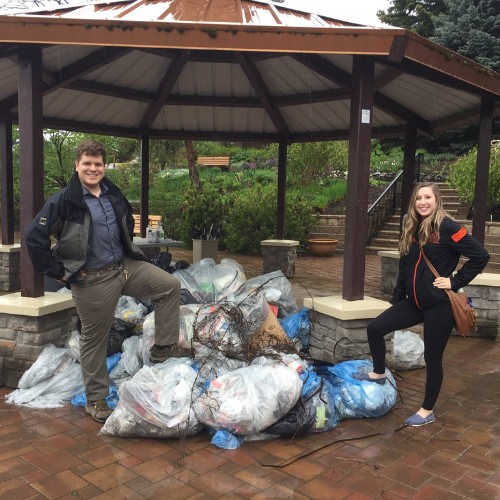 TRU and Community Trash Bash
The TRU Sustainability Office and the City of Kamloops Sustainability Services are teaming up for the 24th annual Kamloops Community Trash Bash.
Last Spring, the annual Trash Bash was cancelled due to the pandemic. In response, TRU held a November iteration of the event and expanded it to include the whole community. This Spring, the event is continuing the new tradition  of bashing trash all over Kamloops as well as on the TRU campus.
When:
April 15—18
Why:
The objective is to encourage people to pick up litter from any location in the community—around their
homes, streets, parks, natural spaces or anywhere else.
TRU staff, students and faculty on-campus, are encouraged to pick up trash around TRU. During the work week on April 15 and 16, TRU employees can clean up trash in and around the campus during paid time for a maximum of one hour over both days.
Not only will you be making Kamloops and the TRU campus more beautiful—while also helping protect the earth—you will also have the chance to win great prizes.
Prizes:
Participants who register by email to sustain@tru.ca will be entered into a draw prize every Friday from April 2—16. Every Friday one participant will win a $50 gift card to the TRU Bookstore. The sooner you register, the better your chances of winning!
Other prizes include:
Three prizes for the 'Most Bizarre Pieces of Trash Picked Up.'
'Most Trash Bashed.' The winner will be determined based on a photo they email to sustain@tru.ca showcasing the pile of trash they have collected. The individual or team with the biggest pile of trash wins lunch at the TRU Culinary Arts Scratch Cafe.
'Best Team Name.' Come up with a fantastic individual or team name for a chance to win a great BYO prize pack for each teammate. The size includes Bring Your Own item, such as water bottles, shopping bags, etc.
Three City of Kamloops BYO prize packs for the most beautiful backgrounds. Take selfies while you are trash bashing on event days and submit them to us by email to sustain@tru.ca for a chance to win.
Rules and Safety:
In light of COVID-19, you are encouraged to pick up trash by yourself or others in your bubble.
Please practice physical distancing, wear a mask if you want to and wash your hands properly during and after the event.
Wear gloves and do not pick up anything that you are not comfortable with for any reason. For example, heavy items, needles, broken glass, etc.
Please try to recycle any recyclable items and put the rest in the garbage.
How:
To participate, all you have to do is pledge to pick up some trash on any of the four days from April 15—18 and register by email to sustain@tru.ca. Be sure to include 'Trash Bash' in the subject line.
Once you register, you're automatically eligible to win a Friday draw prize.
For questions, please contact James Gordon in the TRU Sustainability Office at jgordon@tru.ca or Jaimi Garbutt with the City of Kamloops at jgarbutt@kamloops.ca.
Media Inquiries:
Please contact:
James Gordon,TRU Sustainability Office
jgordon@tru.ca
250-572-2740
Jaimi Garbutt, City of Kamloops
jgarbutt@kamloops.ca
250-828-3377