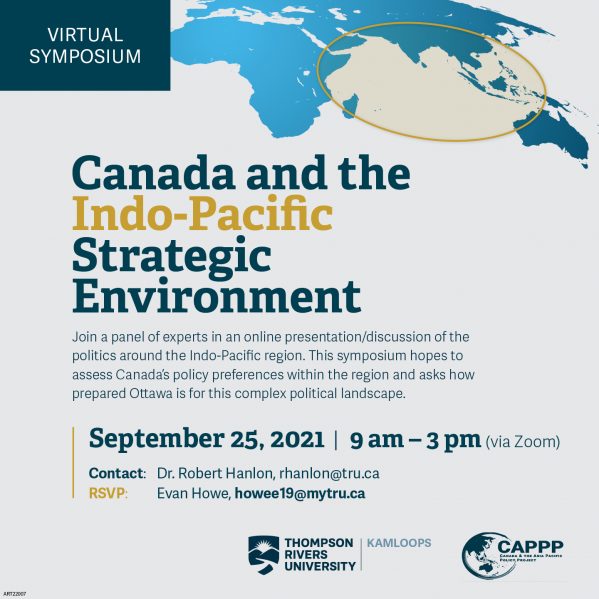 Join a panel of experts in an online presentation/discussion of the politics around the Indo-Pacific region. This symposium hopes to assess Canada's policy preferences within the region and asks how prepared Ottawa is for this complex political landscape.
A political construct, the 'Indo-Pacific' region is a strategic environment that will shape the 21st century. The term is being adopted by governments who see the region as holding both unparalleled economic opportunities along with deeply concerning security challenges. While the 'Indo-Pacific' as a term has been favoured by India and the United States, it has also been met with skepticism in China.
Despite the controversy, the Indo-Pacific is an important term that captures and defines a vast region that is strategically important for Canada.
RSVP by email to Evan Howe, howee19@mytru.ca, to get the link to this online Zoom event.
Participants include:
Paul Evans (University of British Columbia)
Kenneth Christie (Royal Roads University)
Mary Hanlon (Okanagan College)
Eric Lien (Thomson Rivers University)
Bala Nikku (Thomson Rivers University
Scott Harrison (Asia Pacific Foundation)
Quinton Huang (Asia Pacific Foundation
Taylor Brydges (University of Toronto)
Terry Kading (Thomson Rivers University)
Eric Li (University of British Columbia Okanagan)
Johnathan Miller (MacDonald Laurier Institute)
Robert J. Hanlon (Thompson Rivers University)
Matt Hussain (University of British Columbia Okanagan)
Victor V. Ramraj (University of Victoria)
Mark Williams (Vancouver Island University)
Selina Haynes (Vancouver Island University)
Wenran Jiang (Institute for Peace and Diplomacy)
This symposium is sponsored by TRU and the Interior Universities Research Coalition, which includes TRU, UNBC and UBC Okanagan.
Find out more about the Canada and the Asia Pacific Policy Project.