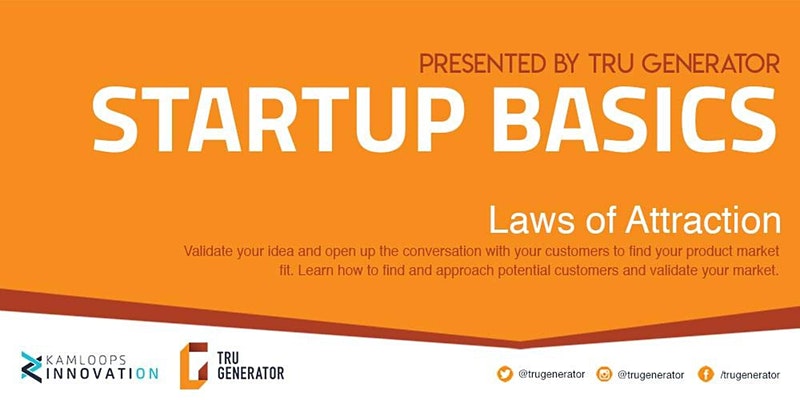 Startup Basics
—

Laws of Attraction

Learn how to attract your ideal customer and validate your product-to-market fit. In this workshop, we will cover best practices to use when reaching out to customers and how to define the difference between selling and validating. You will leave this workshop with the tools you need to identify your potential clients, know how to approach them and the processes required to validate the market.

In this workshop we will cover:
Defining your ideal customer
Sample customer conversations
Technology adoption lifecycle
Validate your product-to-market fit
Register here.
The online event will be held via Zoom.
About Startup Basics
The Startup Basics Series is for entrepreneurs and the startup-curious who are looking for the tools they need to get their business going. Through the Startup Basics Series, Kamloops Innovation and TRU Generator provide mentorship, resources and tools to help entrepreneurs structure and curate their ideas while in the first stages of their startup.
The Startup Basics Series is for anyone who is interested in starting their own business. Whether you are an entrepreneur yourself or just startup-curious, this is where you learn how to turn your passion into a paycheck!
Free mentorship, workshops and resources for students, faculty and alumni looking to start their own business presented by TRU Generator, located in the basement of the House of Learning at Thompson Rivers University.