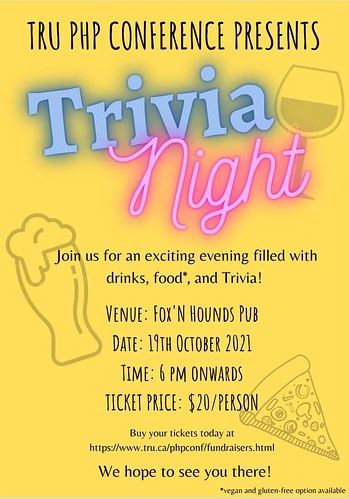 Trivia Night tickets are now on sale. Visit our website to get yours today. The event will be held on Oct. 19 at 6 p.m. at Fox 'n Hounds Pub in Sahali Mall. Tickets will include a great game of trivia, a drink and an appetizer from Fox 'n Hounds Pub.
Please note  there are two terms to comply with to ensure the safety of you and others:
You are required to present your COVID-19 vaccination card upon entry to the event. You must be fully vaccinated (14 days past your second dose) to enter the venue. In other words, you must have received your second dose by Oct. 4 to be admitted.
You are required to wear a mask while moving around the venue and when not consuming food or drink. Everyone's safety is our top priority. If any local COVID-19 restrictions should change before the event, we reserve the right to shift the event to a virtual setting. In this case, we will happily refund the portion of tickets that would have covered the included food and drink.Please feel free to reach out to us at tru.phpconference@gmail.com with any questions. Can't wait to see you there.