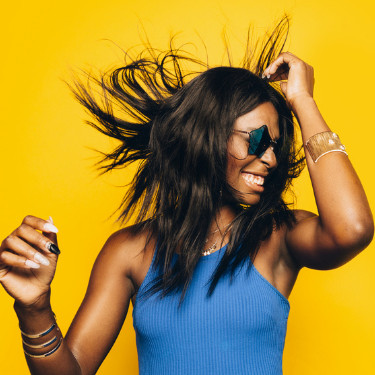 Building upon last year's successful Sweater Dance, the TRU Sustainability Office invites all of BC's public universities and colleges to The Energy Dance: a free, virtual living room dance party on Friday, Feb. 11, from 9 to 11 p.m.
The Energy Dance is 'serious fun' because it draws attention to why we need to be energy-wise these days, while everyone dances with the people in their bubbles on a Friday night. It's open to current students, staff or faculty at any of BC's public post-secondary institutions.
Participants can tune in via Microsoft Teams and hit their home dance floor, just to watch others, or simply to enjoy the music, which is being provided by live DJ, Common Sound. This year's event also features three contests with some great prizes.
The latest report from the UN IPCC paints a serious picture about the need to take action on climate change. Join us in raising awareness about this issue—by dancing!
There's no cost to attend, so we ask that your 'cover charge' be to make an Energy Wise Pledge. Check out this list of pledges and choose at least one, or make up your own. Include your pledge when you email to register for the dance. All pledges will be posted after the dance on the TRU Sustainability Office homepage.
Join the dance on MS Teams here.
Check out the contests
What's Your Favourite Dance Song? Email your favourites to sustain@tru.ca (use the subject line Dance Songs) or follow the contest on the TRU Sustainability Office social media channels: Facebook, Twitter or Instagram (comment on the contest posts with your favourite dance songs). Just by sending us your selections, your name goes into the contest draw to win one of three Visa Gift Cards valued at $50 each. The contest closes Feb. 7 and winners will be announced during the dance. Submit as many songs as you want!
Most 'Electric' Dance Outfit. The three best-dressed dancers each win a $50 gift certificate to a merchant of their choice in their community. Enter by either emailing a selfie in your outfit to sustain@tru.ca (put Electric Dance Outfit Contest in the subject line) or follow the contest on our social media channels: Facebook, Twitter or Instagram, and include your selfie on the contest posts. Send in entries any time until the end of the dance. Winners will be announced Feb. 15.
Energy Wise Trivia. The dance kicks off with a 10-minute energy-wise trivia contest hosted by TRU's Eco Club. There are some great prizes, so get ready.
Technical details
Video – The dance will happen via the video conferencing platform MS Teams, so you will need to download it before the event starts. Make sure your camera works.
Audio – Set up your sound system so you get the best sound possible.
Stay cool – In support of climate action during the dance, turn down your thermostat by 0.5°C to 2°C. Layer up, instead of turn it up!
Questions: Simran Kaur, TRU Sustainability Office | simkaur@tru.ca