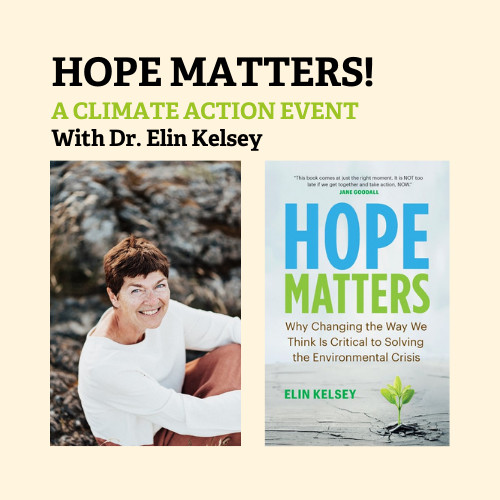 Hope Matters!
A Climate Action Event with Dr. Elin Kelsey 
Dr. Kelsey is an environmental scholar from the University of Victoria who researches evidence-based hope, a successful children's writer and world-renowned climate activist.
Kelsey's guest lectures are sponsored by the TRU Faculty of Arts and are being offered as an experiential component of ENGL 4770 Pathways to Hope and Resilience. Students are exploring climate narratives through the lens of Kelsey's 2020 publication Hope Matters: Why Changing the Way We Think Is Critical to Solving the Environmental Crisis. Her book is a truly inspiring as well as action-oriented approach to our future.
Dr. Kelsey will be giving two lectures on Wednesday, April 6.
Both lectures will be in the Mountain Room, Campus Activity Centre.
Student Event:
11 a.m. – 1 p.m.
Public Event:
7 – 9 p.m.
To watch the event live online, please contact Nina Johnson at njohnson@tru.ca.
Current COVID-19 protocols will be in place. Vaccine passports are required.