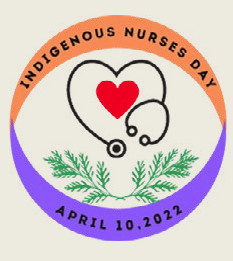 On Monday, April 11, you're invited to continue the celebration by joining an online event and gathering.
This day will feature an Indigenous grandmothers circle and ceremony in the morning, a virtual gathering to celebrate with Indigenous nurses and families in the afternoon, and an inaugural intergenerational circle for Indigenous nurses and students in the evening.
8 a.m. to 9 a.m.: Morning Grandmothers Circle and Ceremony
Noon: Opening welcome
Noon to 1:30 p.m.: Afternoon Celebration and Gathering
12:10 p.m.: Recognition and Acknowledgement
12:15 p.m.: #IndigNursDay video (eight minutes)
12:22 p.m.: Tributes to First Leaders: Monture Family
12:50 p.m.: tributes to First Leaders: Casper Family
1:20 p.m.: Indigenous Nurse closing address
7 p.m. to 8 p.m.: Evening Intergenerational Indigenous Nurses Sharing Circle
Questions: Email the Indigenous Health Nursing Research team.