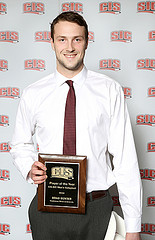 Posted on: February 26, 2014
WolfPack players Brad Gunter and Colin Carson were honoured with national CIS men's volleyball awards on Feb. 26.
Gunter received Player of the Year for his season that included leading the CIS in several key stats categories.
Carson was named Dale Iwanoczko Student-Athlete Award winner for his community involvement that went beyond the 20 hours WolfPack players are expected to put in during the season.
Read more