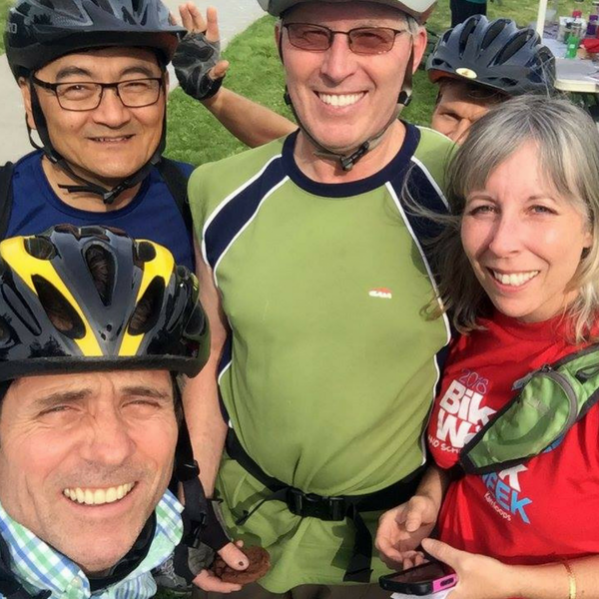 Spring is here and it is time to get your bike ride on!
TRU Bike to Work Week is back! This event is a fantastic opportunity for all TRU community members to get involved in this active, sustainable, fun and free event happening between May 28 and June 3, 2018.
There are many prizes to be won! Including a chance at a trip to Portugal!
As part of Bike to Work Week and the Commuter Challenge (June 3-9) TRU is giving away a free E-bike! (Valued at approx. $1,000USD) Register for one or both of the events and you will be entered into the contest, as well you will receive one entry for each day you participate in the events. This contest is open to all TRU students, faculty and staff. Note you must register for entry and tracking. 
The Commuter Challenge is a friendly challenge between TRU students faculty and staff from June 3 – 9. For more information about the commuter challenge and to register click here.
There will also be prizes for most kms ridden, most elevation gained and great daily door prizes. The more days you bike to work, the better your chances are to win!
Here are the FREE activities that TRU has going on during the week and how to register.
French Breakfast
May 29, 2018 at 7:30AM – 8:30AM at TRU Bike Shelter. Join us for a free delicious French breakfast of fresh croissants, strawberries and strong coffee under the warm morning sun! Open to all members registered in BTWW, space is limited to only 28 people, please register by emailing Melina Smith at mesmith@tru.ca
Celebration Station on TRU lawn (Summit and McGill)
May 28, 2018 from 6:30AM – 8:30AM on TRU lawn Come and enjoy a snack and get your passport stamped and talk biking with fellow commuters!
Bike Repair Cafe
May 24, 2018 from 4:30PM – 6:00PM at the TRU bike shelter join us for a FREE Bike Maintenance Session with a bike mechanic. First come first serve, for minor repairs and to learn about basic bike maintenance to get your bike into tip-top shape for BTWW.
Registration
If you registered last year, all you have to do is LOGIN to be registered for this year's event! If you didn't register go to: https://www.biketowork.ca/kamloops
If you haven't picked up your passport yet for BTWW you can pick one up at any of the participating celebration stations and get a stamp in your passport. The more stamps you have the better chance you have to win.
The TRU Sustainability Office is organizing the TRU portion of this event and manages the team called TRU Folks On Spokes, but you can also join other TRU teams or start your own. All TRU employees and students can participate in TRU organized events and activities and are eligible to win awesome TRU prizes.
For more information about the entire TRU BTWW event please contact Melina Smith at mesmith@tru.ca