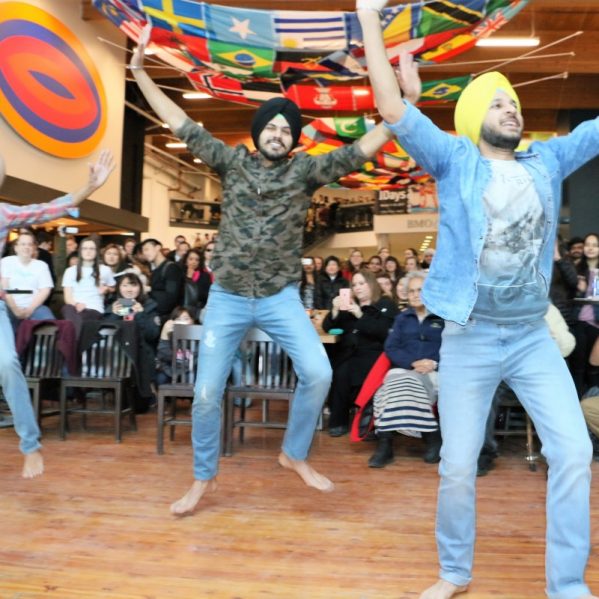 If variety is the spice of life, TRU's campus is flavourful, indeed.
The university celebrates its cultural diversity campuswide during IDays, March 5 to 9. And continuing with that spicy metaphor, this year's theme is Food for Thought, Food for Life, Food for Fun.
The week's lineup of activities and events spans the globe, from making Mexican piñatas to Indigenous storytelling to African refugee students to a model United Nations to world music.
An additional feature for TRU staff this year is they can take some time from their work to attend IDays events. They will be given passports to collect stamps from their IDays travels.
So get out your globe and your cutlery and check out this menu of IDays highlights. The full schedule can be found here.
Monday, March 5
Leave for Change information session and reception
3 to 5 p.m., Alpine Suite, first floor of the Campus Activity Centre
Hear from TRU staff who volunteered to spend their holiday time going to developing countries and offering their skills through Leave For Change. Speakers share their experiences in Vietnam, Tanzania and Malawi. The cost of entry is a TRU Food Bank donation.
Fiesta de Pinatas
5 to 6:30 p.m., atrium of the International Building
Come out and learn how to make a piñata. Monica Sanchez-Flores demonstrates how to turn paper and glue into a colourful piñata.
SOLD OUT—Food, Feminism, Fun and All the Other Fs: An Evening with Mary Walsh, Marg Delahunty and Mrs. Eulalia
7 p.m., Grand Hall, Campus Activity Centre
This event is sold out. Bringing her outrageous personas with her, comedian and actor Mary Walsh from This Hour Has 22 Minutes will tackle a variety of topics with wit and humour. Also a playwright, Walsh wrote, produced and starred in the Gemini-award winning Hatching, Matching and Dispatching. She has numerous other credits and awards and is also an outspoken advocate for mental health and addiction awareness. Tickets are free, but space is limited so they must be reserved here.
Tuesday, March 6
Welcome to IDays 2018
Noon to 1 p.m., main stage in Old Main (beside Starbucks)
Celebrate the official opening of this year's IDays. Hear from speakers Baihua Chadwick and Dan Harris about efforts being made in British Columbia to reach the United Nations goals of zero hunger, responsible consumption, health and well-being and sustainable communities.
The International Language of Food: A Dialogue on Culture, Community and Sustainability
7 to 9:45 p.m., Grand Hall Campus Activity Centre
Food plays so many roles in society and in our lives beyond just meeting our nutritional needs. Food and farming are entrenched in our lives from social events to religious and spiritual practices to our physical environment. This panel discussion promises to involve a vigorous exploration of the role food plays in our lives. Speakers include a founder from an organic micro-brewery, a responsible seafood advocate and chef and an award-winning journalist who often writes about sustainability and urbanism. Refreshments will be served at a reception afterward. Tickets are free, but seating is limited so reserve your ticket here.
Wednesday, March 7
Storytelling/drum festival
5 to 8 p.m. in the BC Centre (northeast side of the Brown House of Learning)
An amazing evening of storytelling, drumming and food. Learn about the culture and history of the Tk'emlups te Secwepemc within Secwepemc'ulucw, the traditional territory of the Secwepemc people. Please bring an item to donate to the TRU Foodbank or make a $5 donation. Dinner will be available.
DJ Khanvict
8 p.m. to 1 a.m. in the Terrace Room, second floor of Campus Activity Centre
Asad Khan, professionally known as Khanvict, is a Pakistani-Canadian DJ and producer based in Surrey. Khanvict immigrated to Canada in 2001. He explores his roots through his music. His style blends elements of classic Bollywood, Sufi and Panjabi music with Bass, Moombahton and Trap. Tickets are limited (300 are available). The cost is $5 for TRU students; $15 for non-students. The event is 19+ (I.D. required).
Thursday, March 8
Two students, two stories, two futures: introducing the WUSC refugee sponsorship program
Noon to 1:30 p.m., Actors Theatre Workshop, Old Main
Hear two inspirational stories from two inspiring students. Imagine how your involvement in this Canadawide program can transform the life of a student, except that their opportunities to study have been interrupted due to conflict or disaster. Join the movement and learn how TRU and our communities can be enriched by reaching across borders to promote education and human empowerment.
Globally inspired, locally created dinner
6 to 10 p.m., Culinary Arts Dining Room
Globally Inspired Locally Created is sure to be a culinary tour de force. This special event seeks to entertain, inform, and connect each diner with the faces, places and ingredients of the BC coast and Secwepemc'uluwc. In this collaboration between Chef Ned Bell and the students and faculty of TRU's Culinary Arts Program, old favourites get a taste-over that will tempt, challenge and delight your tastebuds. Wine pairings are supplied by the Kamloops Wine Trail and showcase the distinctive territory of the Kamloops/Thompson Valley. The guest speaker is award winning author and essayist Taras Grecsoe, who will reflect upon 30 years of culinary adventure and his lifelong journey into the rich cultural underbelly of gastronomy. Join us for seafood appetizers in the foyer. Locally made spirits, ales and wines from the Kamloops area will be available for tasting and for purchase. Only 100 tickets are available, at $100 each (includes appetizers, three courses, dessert and wine pairings). Please note that the kitchen will be unable to accommodate substitutions or adaptations for this menu. Get tickets here.
Friday, March 9
IDays Showcase
3 to 9:30 p.m. in the old gym
The week wraps up with a festival of music, dance, food and fashion.