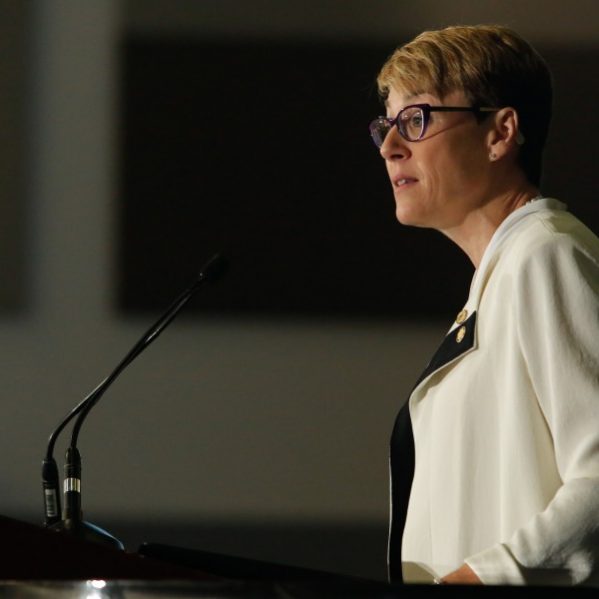 "Every person has a story worth hearing."
These were the words from Marie-Claude Landry, chief commissioner of the Canadian Human Rights Commission as she delivered a public lecture at TRU Law on Wednesday morning.
Access to justice was the topic at hand as she spoke to an audience of about one hundred students.
"It is our job to listen and work with those in the field, to lend our voice to the most vulnerable," she said of the commission's mandate.
"Removing access to justice barriers must be an urgent priority."
Landry knows a thing or two about law. She is a trained lawyer who operated her own private practice for 27 years.
"Your capacity to listen with empathy will take you far in your career," she told the students.
She also elaborated on the current focus of human rights issues in Canada, which she said includes sexual harassment in the workplace, the rights of Indigenous people, the rights of persons with disabilities and the rights of the LGBTQ2 community.
Landry was making a three-day visit to Kamloops, facilitated by TRU Law. Assistant Professor Sam Singer had the opportunity to personally invite Landry on behalf of Dean Brad Morse.
"I first met Chief Commissioner Landry when she invited me to present on a CHRC panel at a conference for Quebec lawyers several years ago. I then worked with the commission when I undertook research for them on the evolution of trans rights in Canada," explained Singer of his connection with Landry.
The chief commissioner's visit includes meetings with a variety of stakeholders, the first of which was an intimate round-table discussion with law student groups, who had an opportunity to share their work on human rights and equity issues.
Landry, alongside CHRC Senior Counsel Shiela Osborne-Brown and Chief of Staff Elizabeth Williams, met with TRU Law students representing the Equity Committee, the South Asian Law Students Association, the Black Law Students Association, the Indigenous Law Students Association, the TRU Outlaws (LQBTQ2 equity group), the Women in Law Society and the Society of Law Students.
'When I see you getting involved, it's inspiring and powerful," she said of the student representatives.
The chief commissioner then met with the Kamloops Bar Association in the afternoon, and Osborne-Brown guest lectured in Dr. Ryan Gauthier's human rights law class in the evening.
The following day, Landry gave remarks at the annual first-year law class visit to the former Kamloops Indian Residential School, where she also heard stories from residential school survivors.
Listen: Chief Commissioner Landry and Assistant Professor Sam Singer on CBC Kamloops, Friday, Feb 2.

http://inside.tru.ca/wp-content/uploads/2018/02/CHRC-on-CBC.mp3
Read: Canada's human rights commissioner touches down in Kamloops, in Kamloops This Week, Thursday, Feb. 1.