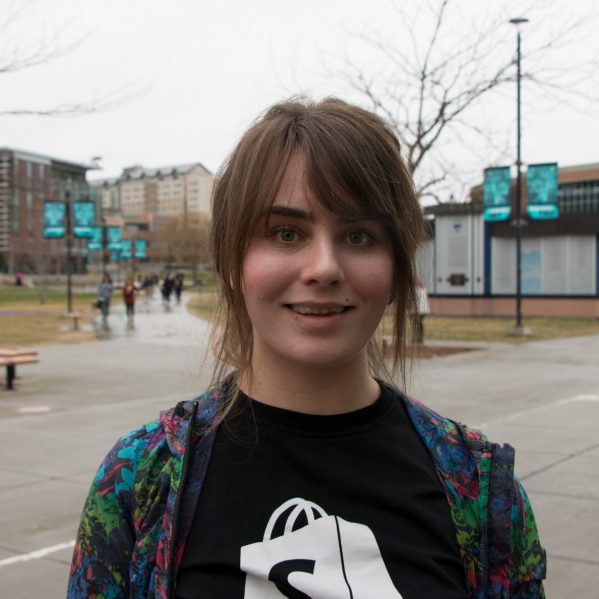 Computer science students had a chance to hear from successful software developer, Lydia Krupp-Hunter, who attended TRU before transferring to software engineering at the University of Ottawa in 2008.
Krupp-Hunter joined the eCommerce platform Shopify in 2012 when the start-up was still relatively small, employing less than 150 people and servicing tens of thousands of vendors. Originally from small-city Salmon Arm, she has grown with Shopify as an internal tools lead for a software development team distributed across Ottawa and Toronto Offices.
Shopify has experienced major growth, now on the New York Stock Exchange, employing more than 1,900 people and providing service to more than 377,500 vendors.
Krupp-Hunter told stories of challenges and achievements. She explained how the doubling of vendors and employees year after year came with some growing pains.
TheCHIVE is a Shopify client and in the early days, when the pop culture site would advertise random, hour-long sales for trending products, the huge spikes in traffic to their site for merchandise would take Shopify down.
This was one of those points in the company's history where they had to use the situation as a growth driver.
They grew and are now serving merchants such as Kylie Jenner's cosmetics and Kanya West's Yeezy line. Shopify is behind the scenes of many big products.
"I was inspired by how Shopify solved the scalability issue of TheCHIVE. It was like they were fighting a mini-boss week after week and rather than backing out, they engineered a solution to the problem," said Kevin Kim, who will be graduating with a combined Bachelor of Computer Science and Mathematics this month.
There was also a lot of technical discussion about Ruby on Rails, the web-application framework that Shopify has always used and continues to use, different coding languages, and how their teams go about pair programming, an agile software development technique in which two programmers work together at one workstation.
Students were eager to hear about Shopify's recruiting process and approachable culture. Krupp-Hunter gave tips on everything from resume structure, interview responses, to finding the right fit in terms of department—regarding balancing stress levels and rewards depending on if you prefer internal tools or storefront development.
"My biggest takeaway from Lydia's talk was her mention of passion being an important aspect of Shopify," added Kim, who will be going to Waterloo Ontario as a full stack software developer at the multinational software corporation—SAP upon graduation. "You don't necessarily have to be the best programmer as long as you have the drive to learn."
Amanda Chan from Kamloops Innovation attended the talk, interested to gain additional insider tips for startups looking to grow into bigger companies. She mentioned the recent growth in tech companies; we have 160 tech companies with well over 1500 employees here in Kamloops.