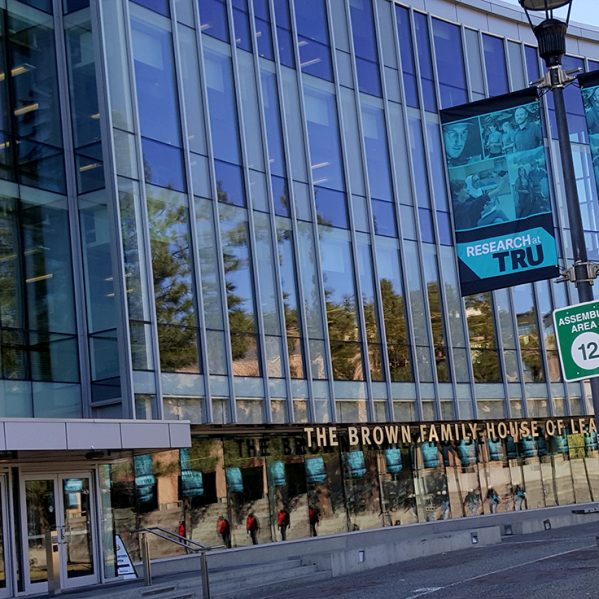 Research Week at TRU is officially in full swing.
Now in its second year, Research Week is a celebration of TRU's growing research capacity.
"This really is a chance for the community at TRU to celebrate and share the wonderful research that's being conducted by faculty and students," said Dr. Will Garrett-Petts, Associate Vice President of Research and Graduate Studies.
It's also an opportunity for professional development. A variety of workshops are being held on campus throughout the week, covering everything from media skills to managing research contracts and grants.
For the first time, events extend off campus as well, during Tuesday's Research is for Everyone event, co-hosted by the United Way Thompson Nicola Cariboo, TRU and The Grind Coffeehouse. Everyone is welcome to participate in the event which features presentations by TRU researchers who are actively engaged in community-based research.
Highlights of the week include:
Distinguished Researcher Series: On Tuesday, join Drs. Terry Kading, Tina Block and Dawn Farough as they present Leadership and Learning in the Small City. On Friday, join Drs. Shelley Johnson, Courtney Mason and Heather Price as they present Issues in Community-Based Research: Challenges and Expectations.
Three Minute Thesis (3MT)  finals: This challenges thesis-based graduate students to deliver a compelling presentation of their research in three minutes or less to a non-specialist audience
NEW! 180-second Research Challenge: faculty compete to share their research in 180-seconds or less, and will be judged by the winners of the 3MT competition
Graduate Research Symposium: Designed to develop interdisciplinary collaborations within TRU's graduate programs, this event is coordinated by TRU's Graduate Student Research Mentors and features a keynote by UBC's Elizabeth Dunn, author of Happy Money: The Science of Happier Spending
Research Week Keynote with Dr. Jenny Shanahan: The Director of Undergraduate Research at Bridgewater State University will outline the value of High Impact Practices and the importance of including these practices in general education requirements, especially in the first and second year of studies
Undergraduate Research & Innovation Conference: The 12th annual conference features the amazing work being done by TRU's student researchers. Poster and oral presentations take place throughout the two-day event, and everyone is encouraged to attend and show their support
More information
Research & Graduate Studies
250-371-5586
research@tru.ca