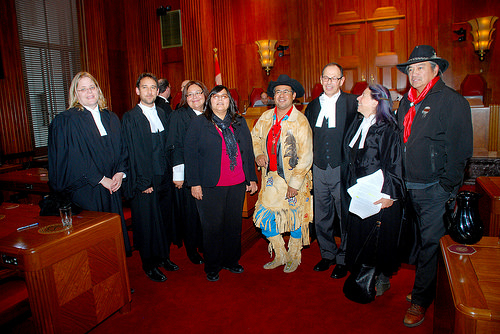 On June 26, 2014 the Supreme Court of Canada issued an unprecedented decision on indigenous land rights in Tsilhqot'in Nation v. British Columbia, 2014 SCC 44, granting the first declaration of Aboriginal Title in Canadian history. It confirms the right of the Tsilhqot'in people to use, control and enjoy the benefits of their land.
This decision is ground breaking for Indigenous Peoples in Canada, and especially in British Columbia where historically no treaties have been signed and indigenous land rights have never been extinguished.
TRU Law faculty member Dr. Nicole Schabus participated in the proceedings before the Supreme Court of Canada as part of the legal team for the Secwepemc, Okanagan and Union of British Columbia Indian Chiefs (UBCIC). They supported the Tsilhqot'in and spoke to the importance of recognition of a broad concept of Aboriginal Title, which the Supreme Court of Canada now upheld.
"The decision was a long time coming," Professor Schabus said. "The Supreme Court of Canada finally granted the first declaration of Aboriginal Title in Canadian history. It is indeed a ground-breaking decision not just for Indigenous Peoples, but for all of us and it will be important to work on its implementation on the ground."
The Secwepemc and Okanagan litigants brought their unique, practical experience to the court, having secured the first cost award for Aboriginal Title and Rights litigation before the Supreme Court of Canada.
The Tsilhqot'in whose litigation was made possible due to the precedent set by the Secwepemc Okanagan Logging cases, appreciated the substantive intervention of the Secwepemc Okanagan and UBCIC. The Secwepemc Okanagan logging cases are the next big Aboriginal Title cases awaiting a hearing in British Columbia, they address the important issue of indigenous jurisdiction over their land and resources.