Posted on: April 18, 2012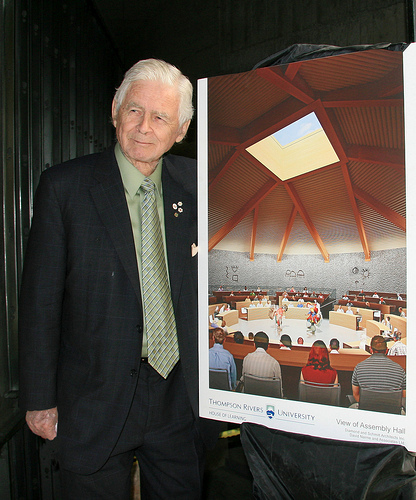 _____________________
Photos of Barber at TRU
_____________________
By Anita Rathje
Irving K. "Ike" Barber, one of British Columbia's most prominent entrepreneurs and benefactors of post-secondary education, passed away peacefully in his home on April 13th, at the age of 89.
Born in Edmonton, Alberta in 1923, "Ike" Barber dropped out of school in Grade 11, and at 19 he travelled to the Peace River Region as the Alaska Highway was being built. He was a parts man for Caterpillar Tractor based in Fort St. John before serving in the Second World War. Through his military service Ike earned the opportunity to continue his education. He graduated at the age of 27 with a Bachelor of Science degree in Forestry from UBC in 1950. He credited this "second chance" at education as the starting point for the success he enjoyed both personally and professionally, and the experience that motivated his generous support of education. In 1952, Ike qualified as a Registered Professional Forester and was involved in the BC forest industry ever since, working throughout the province. In 1978, he founded Slocan Forest Products Ltd., which he built into one of the leading lumber producers in North America. Ike Barber retired as Chairman in February 2002.
_____________________
Photos of Barber at TRU
_____________________
In 1996, Ike Barber was awarded the Forest Excellence Award in Communications for his involvement in the publication of The Working Forest of British Columbia. In 1997, he was given the Ernst & Young Entrepreneur of the Year award for the Pacific Region. The Registered Professional Foresters Association named him the Distinguished Forester of the Year in 1999. Ike is a recipient of the Order of BC, an officer of the Order of Canada, and a companion in the Canadian Business Hall of Fame.
Irving K. Barber's philanthropic support has been instrumental in promoting research and education throughout BC. As a benefactor he provided for scholarships that enable students from all walks of life to access post-secondary education, assisted in the development of new Aboriginal certification programs, funded research into medicine and forest management, built research facilities and medical laboratories, and extended the capacity of university libraries to embrace learners all over the world. In the past 15 years, his contributions to BC universities alone totaled over $40 million. The Human Islet Transplant Laboratory at Vancouver Hospital, the Enhanced Forestry Laboratory at UNBC, the School of Arts and Sciences at UBC-Okanagan, and the Learning Centre at UBC all bear his name.
In 2010, Ike Barber made a $1.5M donation to Thompson Rivers University for the Irving K. Barber British Columbia Centre,and funded the Ike K. Barber Summit on Leadership in Aboriginal Education in the new facility a year later. He was a champion of the academic successes of First Nations students.
"Ike invested his time, resources and passion to help our learners better their lives through education," said Thompson Rivers University president Alan Shaver. "We are proud and grateful to be a part of his legacy."
Ike is survived by his wife Jean, whom he married in 1943, his three children, Linda (Brooke) Williams, James (Lynne) Barber and Gregory (Linda) Barber, nine grandchildren, and 17 great-grandchildren.
TRU will lower its flags today to half-mast today to mark his passing.
_____________________
Photos of Barber at TRU
_____________________