Whatever place you're starting from, we offer the flexibility and breadth of programming to suit how—and where, and when—you want to study.
Be empowered to reach your goals with many learning options. Be supported with individualized student services. Be involved through hands-on learning and research opportunities. Be welcome in our inclusive environment.
Opening doors
Are you ready to start a bachelor's degree, but your grades aren't quite as strong as your enthusiasm? TRU offers open admission to programs in arts, business, computing science and science—enabling you to begin first-year classes in your degree program while you take University Preparation (UPrep) courses to upgrade the prerequisites you're missing. Many UPrep classes are available in summer session, so you can be ready for your next step come September. You can also get a jump on university studies while still in high school with TRU Start (School District 73) or TRU Start BC (distance).
Then there's "laddering": if you begin in one of our certificate or diploma programs, you can apply your completed credits towards the first or second year of a bachelor's degree. Receive full or partial credit for the work you've already done, to obtain your degree faster without having to repeat coursework.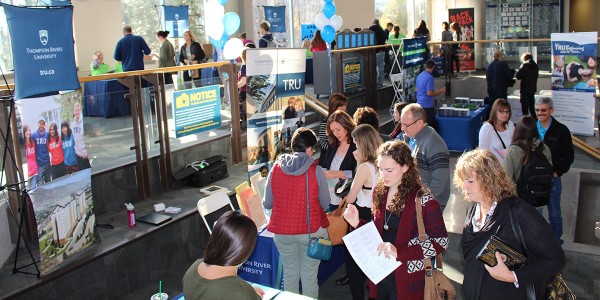 Find out more: attend Open House
Expanding horizons
You can study at TRU even if a move to Kamloops or Williams Lake isn't an option for you. Our Open Learning division offers hundreds of courses online or by distance, so you can get started no matter where you are.
Learn at your own pace—whether that's at the kitchen table while you keep an eye on the kids, or in the airport lounge while you wait for your flight. Take one prerequisite or elective online and do the rest of your program on campus, or complete an entire program through Open Learning, with about 60 to choose from. You can even take advantage of Prior Learning and Recognition (PLAR) options to satisfy program requirements with past work and other experience. Our non-semesterized, self-directed courses accommodate full-time work or other commitments and geographical limitations.
Empowering success
Whether on campus, through Open Learning, or a blend of both, TRU offers flexibility: daytime, evening and summer session courses, and full-time or part-time study. Choose from our wide range of programs—from certificates and apprenticeships to bachelor's and master's degrees—to launch into the workforce quickly or prepare for further study in professional or graduate schools. You can also transfer in with credits from other post-secondary institutions, or start here for an excellent foundation in one of our transfer programs, like forestry and engineering.
And whether you plan a career in areas like trades, technology, health or hospitality, or start on an academic path to research, creative work, medicine or law, your path isn't set when you choose your program. Enjoy the freedom to find new goals along the way. And take advantage of the many student services available to assist you whenever you need support. With opportunities like undergraduate research, co-op, study abroad and other ways to enrich your studies and connect to your professors and peers, we encourage you to find your own path, your passion—your TRU—wherever it takes you.