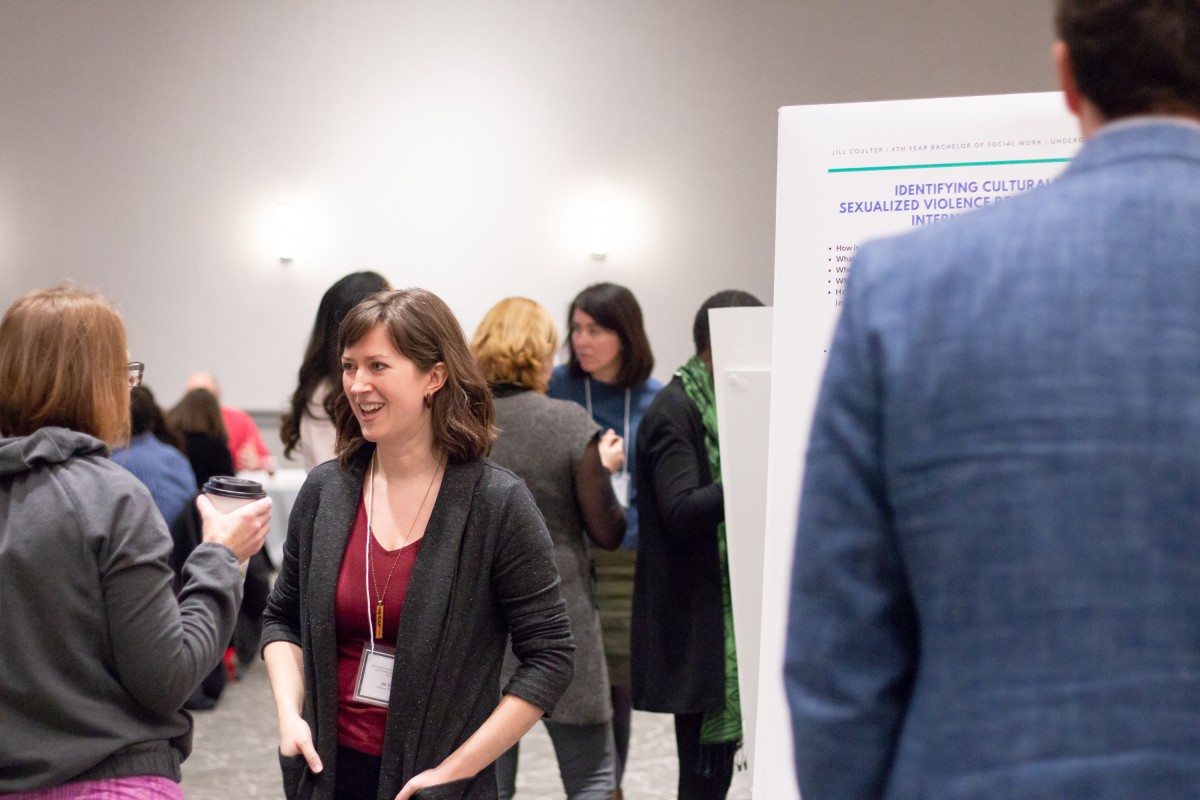 Microaggressions in the classroom, indigenization and internationalization in Canadian higher education, and South Asian students' experiences with Canadian health care were just a few of the discussion topics at the biennial Learning at Intercultural Intersections Conference (LII).
Students, scholars, researchers and attendees from across the globe embraced this special opportunity to share ideas on March 13 to 15, all in the name of moving toward equity, inclusion and reconciliation.
The first LII Conference was held in 2015 and was based on exploring the intersections of intercultural learning. TRU's diligent conference organizers have kept the conversation going ever since.
For social work student Jill Coulter, this was a chance to share her research poster Providing Culturally-Safe Sexualized Violence Response Services to International Students, and answer questions from conference attendees.
She was also given valuable and unexpected feedback.
"A former international (TRU) student from China approached me to talk to me about my research. She told me this was a very important topic, and that the information I had gathered regarding risk factors to experiencing and reporting sexualized violence that international students face was very accurate. She was happy that I was pursuing this research," she said.
It was welcome feedback, as Coulter wasn't initially going to participate.
"I was nervous to put myself and my research out there for everyone to critique, but I was encouraged to participate in the poster presentation by one of my UREAP supervisors who was involved with organizing the event. I'm so glad I decided to go for it!"
Coulter left the conference with an overwhelmingly positive experience as an undergraduate researcher. She heard constructive, enthusiastic and encouraging feedback, and was invited to collaborate on a similar project with a staff member at a different institution.
TRU staff members Brad Harasymchuk and Ashley Berard spoke about TRU's Global Competency certificate.
"LII is a great experiential learning space for students to come out and consider different perspectives about indigenization, internationalization and intercultural learning in higher education. It's also a great space to network and meet people from Canada and other countries," Harasymchuk said.
Speakers and attendees from across Canada, USA, Brazil, New Zealand and many other places added diverse viewpoints and a broad array of perspectives–some of which can be applied locally.
"The issues and content presenters are talking about are community-based issues. It's important to hear from people from different places and bring some of that knowledge back to your local community," he said.
Kyra Garson has been the main organizer for all three LII conferences and she stressed that many TRU faculty, staff and students–across disciplines–have contributed to this year's conference and the ongoing success of the initiative.
This year, the core committee consisted of Amie McLean, Stephanie Tate, Harminder Padda and Saloni Dalal. Other contributing committee members included Robline Davey, Brad Harasymchuk and Tanvir Alam.
Conference proceedings have resulted in the publication of two special issues of the following online journals:
Many TRU faculty have been involved in these publications as co-editors or authors. Kyra Garson, Lisa Bourque-Bearskin and Gloria Ramirez as editors, and Robin Reid, Emma Bourassa (retired), Wendy McKenzie, Florrian Fehr, Kim Burgess (retired), Gail Morong (retired) and Donna DesBiens (no longer at TRU) as authors.
LII coincided with TRU IDays, a week-long celebration of culture on campus. For more information on the posters, presentations and speakers of LII 2019, visit the website.