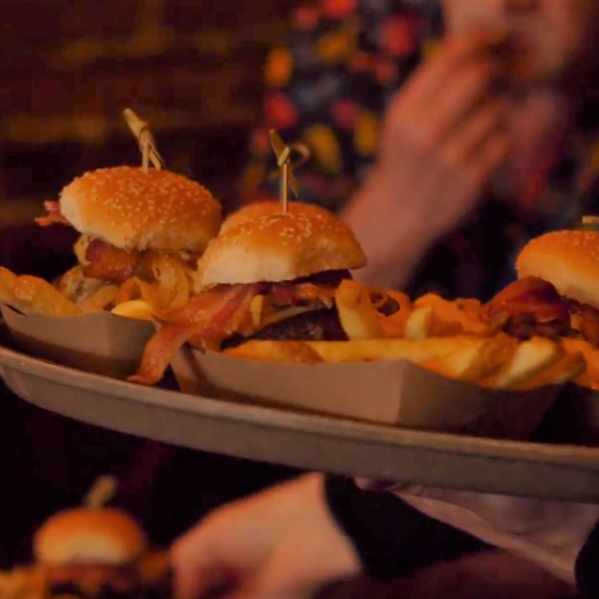 TRU Alumni & Friends second annual Dish Up Downtown was a hit on April 18, raising over $4,000 for the Alumni Endowment Fund.
The event was cooked up as a replacement for the annual Alumni Golf Tournament. "Although designed to be a culinary experience– the real motivation was to do something different that  alumni & friends could do together to support both the TRU students and the downtown businesses.  This delightful dining experience was infused with contests, games and just a good old fashion night out with friends and family." said Arlene Olynyk, Alumni Relations Manager.
Now in its second year, the event included a few new partners; Terra Restaurant, the Kamloops Art Gallery, and EA Gourmet. Participants were treated to the best of the best in small portion sizes from participating eateries from the downtown core. Newcomer EA Gourmet provided an array of fresh French macarons for dessert.
The evening started with drinks at the Kamloops Art Gallery and ended in the same location with dessert, silent auction, and door prizes. Through the generosity of local businesses, the evenings Silent Auction and games were popular with guests, making up the bulk of dollars raised at the event.
All dollars raised at the event went directly to the Alumni Endowment Fund. This fund has been growing for 21 years and provides 8 students per year with awards valuing over $7,000 total. With the contribution of guests at events such as Dish Up Downtown and donations from TRU Alumni throughout the year, this fund will continue to grow and positively impact the lives of students.
The Alumni office would like to extend a special thank you to the hardworking volunteer planning committee, participating restaurants, and all event partners and sponsors:
Major sponsors:
TD Insurance Meloche Monnex
LMG Finance
Silent Auction Sponsors:
Mike Wiegele Resorts
Chahal Priddle LLP
Planet Fitness
Supplement King
The Commodore
Hotel Zed
Krafty Kitchen
Kelowna Concierge
Skilltech Services
Alumni Association
2018 Culinary and Beverage Sponsors/Partners:
Monte Creek Winery
Red Collar
LMG Finance
The Commodore
Terra Restaurant
Mittz Kitchen
EA Gourmet
Remember to update your information to receive your invitation to the next great alumni event in your area and thanks again to TRU alumni, friends and businesses that continue to support these initiatives and student success.