Posted on: March 21, 2018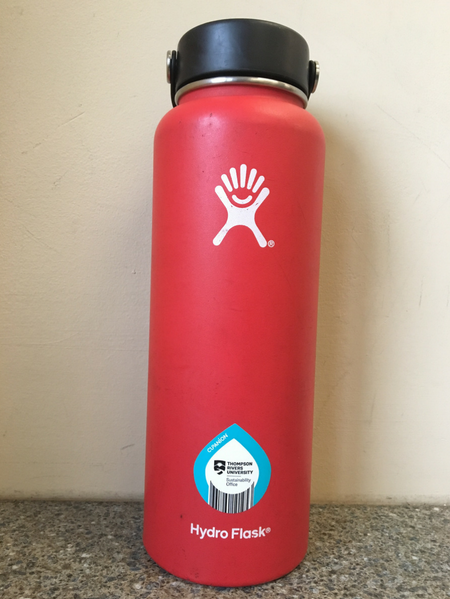 It's time to start reusing with the TRU Cupanion Program! Connect your reusable mug, cup, or bottle with your smart phone to Fill it ForwardTM, track your reuse, and work towards rewards!
As of March 6th the TRU Cupanion Water project is now running. It's time to start filling up your water bottles!!
How to get involved:
STEP 1: Grab a tag.
*Update* – due to high interest surrounding the program we are fresh out of tags to distribute – stay tuned for more tags Mid-April.
Where to get one? Currently, there is a dispenser at these major water refill stations on campus:
AE 2nd floor by stairs
HOL 1st floor
IB 1st floor
Old Library 1st floor
Old Main 1st floor, 2nd floor
Science 2nd floor
Law Department
STEP 2: Put the tag on your water bottle.
STEP 3: Download the Cupanion app from an app store.
STEP 4: Scan the tag with the Cupanion app every time you refill your water bottle!
The benefits!!
1. Every time you choose to refill your reusable, rather than using a single use bottle, a cup of clean drinking water is donated to charity through the organization WaterAid!
2. Each time you reuse you work towards winning draw prizes – each month five $20 gift cards (that can be used towards food on campus) are given away!
3. Curious how much you have personally helped the environment by avoiding single use bottles? On the app you can track your reuse streak, number of bottles diverted from landfill, and so much more!
Are there rules?
Yes, but they are pretty simple! There is a maximum on the number of scans you can log in a day and also a restriction on how often you can scan… but don't worry all of this is made very clear on the app itself.
Coming SOON!
We will be launching a hot beverage component of the TRU Cupanion program this spring semester! In preparation, find your perfect mug and follow the sustainability office on social media for the launch announcement!
Prior to the hot beverage launch if you have received a TRU Cupanion Mug you can use this in lieu of a reusable water bottle in the water program!
Special Note:
If you are having trouble scanning your tag – don't worry it's not you it's the tag! We have discovered that some of the barcodes printed with a small margin of error – making it hard for the app to read the tag!
If your tag takes longer than 5 seconds to read you might have gotten a faulty tag! We apologize for the inconvenience and have rushed to fix the error!
There will be new and improved tags available mid-April and we encourage you to swap out your slow one at this time! Don't worry about losing any of your reuse data or accumulated points as the app will transfer all of this information when you switch to a new tag.
Want to get involved or have questions? Contact:
Valerie Law , Project Coordinator
trucupanion@gmail.com
250 571 4558