Posted on: March 2, 2018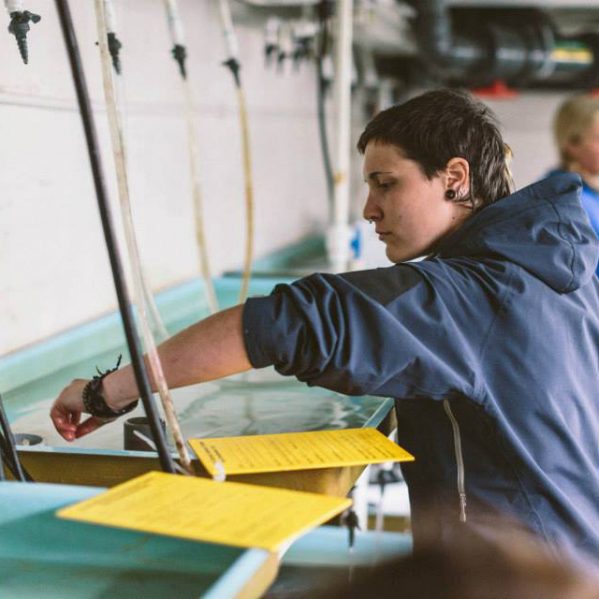 Shannon Mendt's stressed out barnacles took top honours in the annual Master of Science in Environmental Science Showcase this week.
The showcase, which featured oral presentations from 13 first-year students, and poster presentations from 12 second-year students, is a cornerstone of the graduate program, and an opportunity for students to share their research with the campus community.
"The research they share demonstrates an excellent and true representation of the diversity of topics relevant to the broad field of environmental science," said Dr. Lauchlan Fraser, who organized the event.
Mendt, who completed her undergraduate degree at Simon Fraser University in 2013 presented, "Shell's kitchen: Energy and stress tolerance in intertidal invertebrates," and says she enjoyed the opportunity.
"It's a really great experience for someone like me who is early on in their project. It forces you to make sure you know what your question is, and how you're going to work toward answering it. I found it incredibly helpful."
Intertidal invertebrates — like barnacles — have a high mortality rate in their early life. Mendt will spend her research field season at Bamfield Marine Sciences Centre trying to discern a relationship between the amount of energy available to invertebrates, and their ability to withstand stress. It was the project, working under the supervision of Dr. Louis Gosselin, that drew her to TRU, but Mendt appreciates the irony of moving inland to study marine biology.
"I've always been really interested and passionate about marine biology, and this way I get to spend my season in Bamfield which is hands-down my favourite place to be."
Best presentation (oral)
Shannon Mendt, Shell's kitchen: Energy and stress tolerance in intertidal invertebrates
Honourable mention:
Erik Prytula, The effect of weather variables on migratory timing in avian populations
Araminde Taiwo, Organoarsenicals: Fate and occurrence in water bodies near poultry farms
Best presentation (poster)
Jordann Foster, The effects of Spotted Knapweed on grassland arthropods: Genomic barcoding tools for ecosystem reclamation
Honourable mention
Dominque Hazel, Environmental practices at music festivals in British Columbia: Examining stakeholder power relations to build effective partnerships and foster sustainability
Doug Terpsma, Topographic signature: Using fine-scale soil variability and topography for predicting available soil water in hot, dry Douglas-fir ecosystems