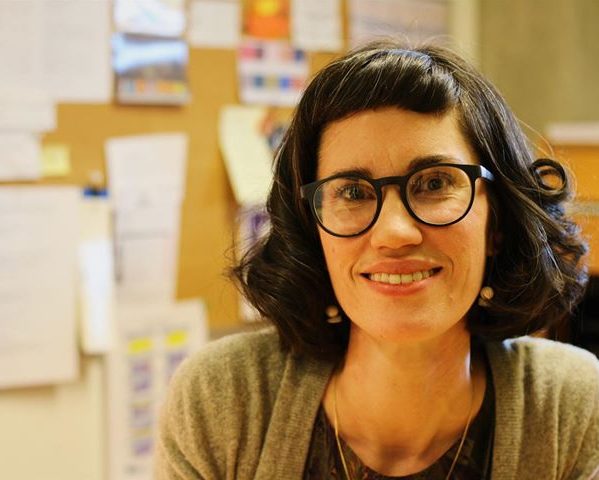 There's been talk in the media lately about an exodus of artists moving from the coast inland as living expenses continue to increase and smaller cities grow their arts communities.
The first in a series, this Q&A will illustrate why Kamloops is a community for artists.
There are many well-known visual artists and curators living and working in and around the North Okanagan today, a list that includes Janet Cardiff and George Bures Miller at Grindrod, Brian Jungen at Head of the Lake, Tania Willard at the Neskonlith Indian Reserve and Charo Neville at the Kamloops Art Gallery—all of whom grew up in smaller communities and spent time in larger centres, only to return to or, in the case of Willard, maintain ties to these communities.
We had a chance to speak with Emily Hope, who graduated from TRU with a Bachelor of Fine Arts (BFA) in 2012 and works as the education and public programs director at the Kamloops Art Gallery.
What's Kamloops like for artists?
Opportunities for space to work and exhibit have expanded a lot in recent years—I'm thinking especially of Padlock Studios here—and there are an increasing number of art-related events to attend and participate in. The arts community in Kamloops works hard to support artists at all career levels and there are a lot of opportunities for growth and development here.
It's a little bit like Cheers here (that 80s sitcom made famous for their theme song's tagline, 'Where everybody knows your name'…)—everybody knows your name. I think one of the main benefits of living and working in Kamloops as an artist is that this community is so small. You build connections quickly and people are so willing to help each other out.
You recently had work shown?
Exhibiting at Arnica is always a treat. As a rule, artist run centres tend to be welcoming, supportive places but I think Arnica (local artist-run gallery) is even more so than others. My exhibition there this past April was exciting for two reasons: it was the first time I'd shown my work about Romanian and Canadian mummers in the same show, and Arnica put together a small publication to accompany the exhibition with an essay by TRU arts faculty member Terryl Atkins.
Do you find inspiration in the landscape?
I love Kamloops' landscape and am forever in awe of the beauty of the hills. That being said, I'm not sure that I could attribute any specific inspiration for my art work to the city, landscape or community. My recent work is focused on wild men and pre-Lenten masking traditions, neither of which are especially prevalent here.
Art events in Kamloops you'd highlight?
I always enjoy attending the year-end exhibition and reception for the TRU Bachelor of Fine Arts graduates, it's so exciting to see what the students have accomplished.
Every other year, KAG hosts a week-long public new media exhibition called Luminocity with outdoor video projections, musical performances, artist's talks, curator's walks and art making events. I love watching folks encounter the art work in unusual places, like on the sides of buildings on Victoria street or in the middle of Riverside park and seeing how they engage with it.
Once a year, we transform our studios into a ridiculous theme room for the Art Duel and ask folks to show up in their wackiest costumes to engage in a blindfolded art-making contest. It pokes a bit of fun at the idea of competitive art making and encourages folks to loosen up and have fun.
Any special upcoming KAG events?
We have a lot of new programs rolling out in the new year and I'm very excited about all of them. We were fortunate to receive a sponsorship from the Edwina and Paul Heller Memorial Fund to create a new youth program that will start in January called After-School Special. Run by our Youth Programs Coordinator, Anyssa Fortie, After-School Special will run weekly in our studios for youth aged 14 to 21. Each month we'll focus on a different technique or topic and bring in guest artists to lead hands-on workshops and talk about how they use that particular technique in their art practice. This program will run January to June, and will conclude with an exhibition on our Open Gallery—designed, installed and advertised by the youth in the program.
Resources for artists in Kamloops?
The Kamloops Makerspace is a fantastic resource, especially for artists who do not have access to the studios at the university. It's a great community and they have excellent work spaces and a number of interesting tools such as CNC machines and 3D printers that you likely wouldn't have access to otherwise.
The Kamloops Printmakers' Society is a vital resource for artists who work in print media. It is both a great community and a fantastic work space. They have a number of different printmaking presses and the studio is really enjoyable to work in.
Did your education support you in your career goals?
Yes, absolutely. I had the opportunity to work as a research assistant with Small Cities CURA and Making Artistic Inquiry Visible projects as well as with individual faculty members.
The experiences I had working with faculty, community members and visiting artists and researchers through these programs were invaluable.
Would you recommend visual arts at TRU to people interested in a career in visual arts?
I would. Because of small class sizes, TRU's BFA program is intimate. You get incredible one-on-one instruction and mentoring from the faculty and are given the space and freedom to explore your own research.
Are you noticing recent city transplants?
There is definitely a trend of folks moving here from Vancouver. Some good examples are Holly Ward and her partner Kevin Schmidt, who were living in Vancouver and Berlin but are now primarily based in Whitecroft.