Posted on: December 1, 2017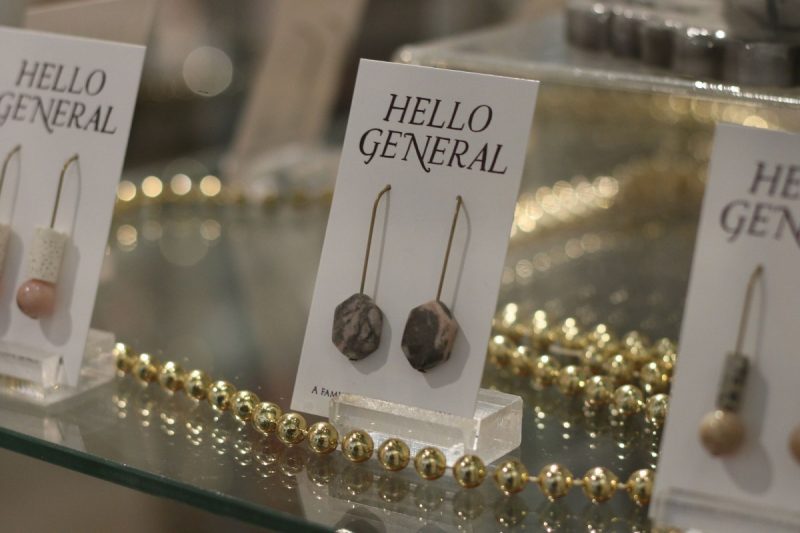 Looking for gifts for the holiday season?
Check out these products and services from TRU alumni.
Hello General at the Kamloops Art Gallery (KAG) Store
Emily Hope, Bachelor of Fine Arts grad, 2012 valedictorian and education and public programs director at KAG recently had a show at Arnica Artist Run Centre, Any Mummers 'Lowed In? Which pays homage to a relatively overlooked cultural figure—the Wild Man.
She's taken prints of her Wild Man Appreciation Society work and transferred those onto Christmas decorations for the tree.
Stop by KAG's store for more of her work and for pieces from other Bachelor of Fine Arts graduates.
Popcorn and fudge from Skippy's Kettlekorn
Cody Inskip is finding sweet success with his popcorn and fudge company, Skippy's Kettlekorn.
Check out their current seasonal fudge flavours: candy cane, egg nog, pumpkin pecan pie, pistachio, pumpkin spice.
You can find these products in more than 250 retail locations across the province, from small independent corner stores to Canadian Tire and Save-On.
Inskip who graduated from TRU in 2012, cites the Small Business Management course as being one of the most valuable in his business program.
Tickets to the Freudian Slips from Chimera Theatre
Give the gift of laughter. The TRU theatre alum-based improvised comedy troupe hits the stages of Kamloops every month starting in December.
Pick up tickets to this fast-paced, funny, physical comedy and watch the outrageous situations unfold.
Performers include theatre arts alum and current students: Andrew. G Cooper, Brooke Ballam, Jessica Buchanan, Brendan Law, Taylor James McCallum, Brittany McCarthy and Paul Rancourt (Rancourt did not attend TRU). 
Join them as they gather inspiration and suggestions from the audience and embark on an evening of entertainment through a series of games—much like the show Who's Line is it Anyways?
Natural beeswax candles from Beez Pleez
Current Master of Business Administration student Brayden Hearne, along with Bachelor of Business Administration student Kolby Klassen have successfully launched a company which increases the local bee populations.
For every natural beeswax candle purchased, Beez Pleez funds 20 new honeybees.
Check out their holiday specials with festive wrapping for those who love the scent of honey and the addition of candles in a cozy room.
Beez Pleez has contributed more than 200,000 honey bees to non-commercial bee keepers since their launch in April 2017.
Elevated Ice Fishing Tours at Sun Peaks
Give the gift of some sunshine on the ice with a fully guided ice fishing adventure.
Join your guide and adventure studies alum Campbell Bryk for a uniquely Canadian experience on one of the many mountain lakes surrounding the Sun Peaks area and try your hand at catching a few of the hard-fighting and great-tasting wild rainbow trout.
Everything from pick up to drop off is provided, door to door transportation to and from the lake, a heated ice fishing tent, a hot beverage, all the fishing gear and of course the knowledge of an experienced guide making it easy for anyone to learn as they go, absolutely no experience required.
Purchase a day trip experience through Sun Peaks and with a little luck, your gift could result in a fish for the pan.
Know of a current TRU student or graduate who should have made this list? Email rphelan@tru.ca to be included in the next TRU alum gift guide.