Posted on: November 6, 2017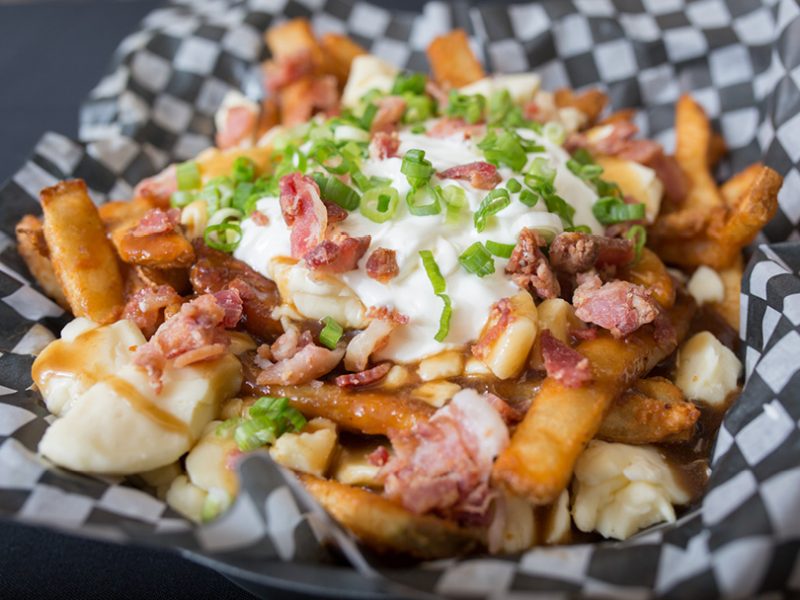 Looking for a great place to eat on campus? We recommend checking out The Den, located on the second floor of the Campus Activity Centre. Sit down, relax and enjoy delicious food.
Open until 10 p.m. Monday to Friday, The Den is open to all ages via a new licensing agreement, which makes it the perfect location for student clubs and campus departments to hold an event such as a fundraising dinner, private function, karaoke, open mic or trivia night.
The Den introduced a new menu this year, featuring classic pub fare. The average menu price is lower than comparable locations around town. Enjoy the homemade flavours of our re-invented burgers, or if you are looking for something different, check out our ramen noodle bowl or chicken burrito rice bowl. Vegetarian, vegan and gluten-free choices available. Craving a Canadian classic? The Den's new poutine menu features 10 delicious ways to eat this favourite dish.
Daily food specials
Monday – Den's Classic Cheeseburger & Beverage – $14.50 (all day)
Tuesday – half-price Ramen Bowls – $6 (5pm – close)
Wednesday – $8 Pasta Special (5pm – close)
Thursday – $0.50 Jumbo Chicken Wings (5pm – close)
Every day – $8 Daily Food Feature
Order it to go
Did you know that you can pre-order takeout? Our full menu is available—view our menu online and call us at 250-371-5725 to order.
The Den is a great place to work on campus and employs many students who enjoy the flexible work schedule and great atmosphere.
Come try our new menu and eat on campus today! See our website or Facebook page for hours, menus and more.
TRU Food Services welcomes your feedback and looks forward to working with all members of the TRU community to improve the overall dining experience. Send your comments to foodservicesfeedback@tru.ca.