Posted on: October 30, 2017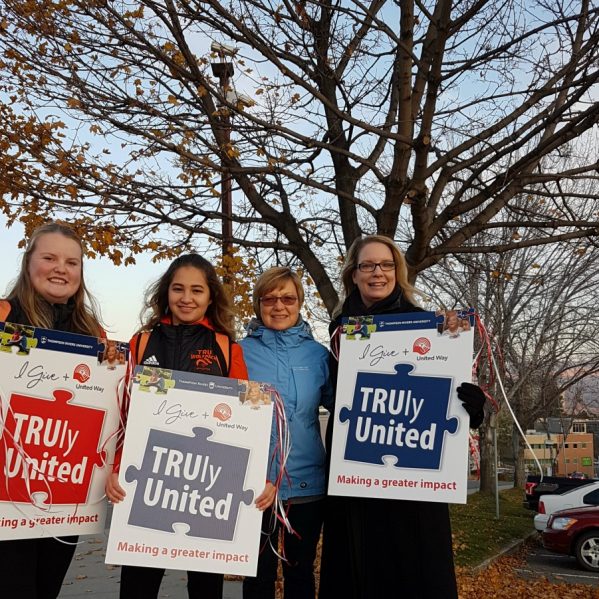 TRU employees, student athletes and staff members of the United Way Thompson Nicola Cariboo gathered at the entrances to TRU this morning, waving flags to officially kick off the 2017 TRUly United campaign.
The joint campaign raises money for student awards through the TRU Foundation, and also supports the broader community through the United Way TNC. 
Last year, 592 employees participated, raising over $192,000, and this year's campaign goal is for one out of every two employees to participate, and to raise a total of $200,000.
TRU President and Vice-Chancellor Alan Shaver says the spirit of giving and community is a big part of TRU, particularly after a summer of devastating wildfires.
"Neighbours stepped in to help neighbours, thousands of volunteers and organizations came forward to assist, including TRU," said Shaver.
"But we shouldn't stop there. With the TRUly United campaign, each year we prove that in just 19 days (this year's campaign runs from Oct. 30 to Nov. 17) we can change people's lives," he added.
Donors can choose whether to give to the TRU Foundation or to the United Way, or both, and the Kelson Group has once again generously offered to triple donations on new or increased gifts made on specific days (watch for matching opportunities throughout the campaign, the first one is today).
Campaign co-chair Dennis Acreman says the funds raised make a difference in many students' lives.
"Last year, the TRU Foundation was able to provide scholarships and bursaries to 1,600 students," he said, noting that there are always hundreds more turned away.
"Our vision is that every student who needs financing, gets it."
Donations can be made by payroll deduction or payroll lottery and one-time donations are also accepted. Pledge forms are being distributed to all departments across campus. You can also complete an online donation form.
Donations are tax deductible and as an added incentive all donations made the first week of the campaign will be entered into a draw to win free semester of parking.
As the TRUly United campaign unfolds, you can be a part of the story. By using #TRUlyunited in your posts to Twitter, Facebook, Instagram and Flickr we will be able to compile a Storify webpage filled with images, video and comments for the duration of the campaign.
There are also a handful of special events associated with the campaign:
Friday, Nov. 3, 1-3pm: Join us for a Seeing is Believing Tour. Employees interested in attending this free tour highlighting the path to homelessness in our city are granted time off with pay. RSVP to roop@unitedwaytnc.ca. Bus pick up will be in front of the HR building at 1pm.

Thursday, Nov. 9: At the opener of  Men's Soccer Nationals, proceeds from the 50/50 raffle will be donated to the TRUly United campaign.  Event details and tickets here.

An Evening with a Brewmaster: Join individuals from TRU, Domtar and Finning for this food and beer fundraising event.