Posted on: October 23, 2017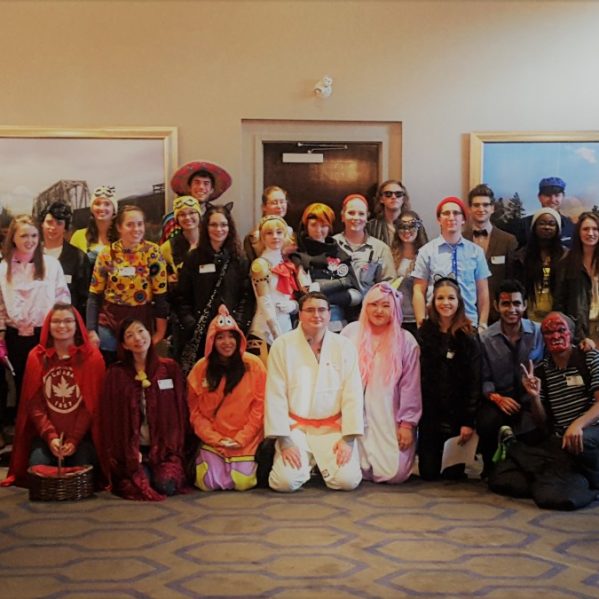 Partnering with the Kamloops Food Bank, Meal Exchange and a number of TRUSU clubs, the Omicron Theta chapter of Kappa Sigma Fraternity is gearing up for another year of Trick or Eat Kamloops.
The cross-country initiative will see thousands of "Trick or Eaters," going door to door to collect food and funds.  The collective mission is to unite community forces to draw attention to the issue of hunger at home and on-campus.
President Amos Moffatt and Vice President-External Jaime Ferreira are at the helm of this year's efforts; they are more motivated than ever to collaborate with other organizations to make the advocacy initiative the best yet.
"Last year we raised over $7000, and we hope to go well beyond that this year," Amos remarked.
Mid-semester rush will be following quickly on the heels of Halloween, and both Amos and Jaime noted that joining in on the fun would be a fantastic opportunity to meet fraternity brothers and get a sense of the work they do.
When recruiting new pledges, Amos leans on the Four Pillars that Kappa Sigma abides by: fellowship, scholarship, leadership and service.
The benefits are widely varied based on whatever your needs are—but ultimately, time spent with Kappa Sigma will lead to learning outcomes, volunteer experiences, and life-long friendships.  Jaime said, "There are so many opportunities to learn, grow and connect—not just with the local chapter but across North America. There are friends out there that you haven't met yet."
Amos mirrors Jaime's sentiment about the emotional aspects of the brotherhood: "There are ready-made friendships and support systems waiting for you, which is a huge benefit when you've just left home or living in a new city."
Trick or Eat takes place on Tuesday, October 31, from 4:00 p.m. to 9:00 p.m.  Kappa Sigma members will be knocking door-to-door during Trick or Treat hours. If you will be out and about that evening, feel free to leave a bag on your doorstep or deliver it to Moxie's Banquet Room in the Signature Sandman Hotel (225 Lorne Street). Cash donations are also welcome.
Consider these options when preparing care packages:
Pasta (canned or dry) and pasta sauces
Canned and frozen meats and fish
Meat alternatives (peanut butter, soy, assorted nuts)
Canned goods (beans, soups, and stews)
Dairy (fresh, canned, and powdered milk)
Canned vegetables and fruit (low sodium, low sugar)
Whole grain cereals
Infant foods and baby formula
Bathroom tissue and diapers
Personal hygiene products
Register as a volunteer for the Kamloops Kappa Sigma Campaign at www.trickoreat.ca
For more information, email trickoreat@trukappasigma.com