Posted on: September 8, 2017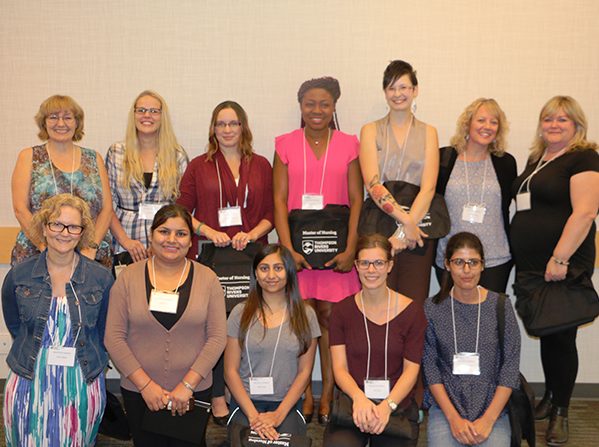 After many years in the making, the Master of Nursing (MN) program welcomed its inaugural class of students with a reception and meet-and-greet in the Mountain Room, along with some exciting new award announcements.
"The MN faculty and staff are thrilled to be a part of this highly anticipated launch," said Nicola Waters, program coordinator. "The program offers an exciting opportunity for future leaders to forge new paths in nursing research, education and advanced practice to meet dynamic challenges facing individuals, communities and organizations across Canada and around the world."
The exciting event kicked-off with the announcement of a new endowment fund created by the Kamloops Surgical Centre, which is the first corporate donation towards the program.
"The Kamloops Surgical Centre (KSC) is honoured to create an endowment fund for the Master of Nursing students at TRU which reflects our commitment to healthcare in the Thompson region," said President and Chair of the Kamloops Surgical Centre, Dr. James Baughan. "Advancing nursing practice is key to developing healthcare in an ever-changing world.  To be able to support this program, the KSC chose to create an endowment account bursary for students because they are gifts that truly keep giving." 
Dean of the School of Nursing, Dr. Donna Murnaghan, also announced that she has generously created an award in her name worth $1,500 annually, which will go to an MN student demonstrating nursing leadership and quality improvement.
The MN offers opportunities for nursing grads and registered nurses to gain leadership roles within the field, advance healthcare knowledge and obtain clinical education for academia. It's offered in a blended delivery model both in-person and online, available in full-time and part-time study, which is a great selling feature of the program. 
"I was interested in this program particularly because of the blended aspect. The various options for students to direct their path and the flexibility was really attractive to me, as well as the ability to access course work remotely," said Tammy Mellas, who works as an emergency nurse at Surrey Memorial Hospital and hopes to become a nursing instructor.
This marks TRU's third new graduate program since May, which effectively doubles the university's offerings.
More information
Donna Murnaghan
Dean of the School of Nursing
dmurnaghan@tru.ca
250-852-7288
Dr. Nicola Waters
Master of Nursing Coordinator
nwaters@tru.ca
250-377-6036