Posted on: May 30, 2017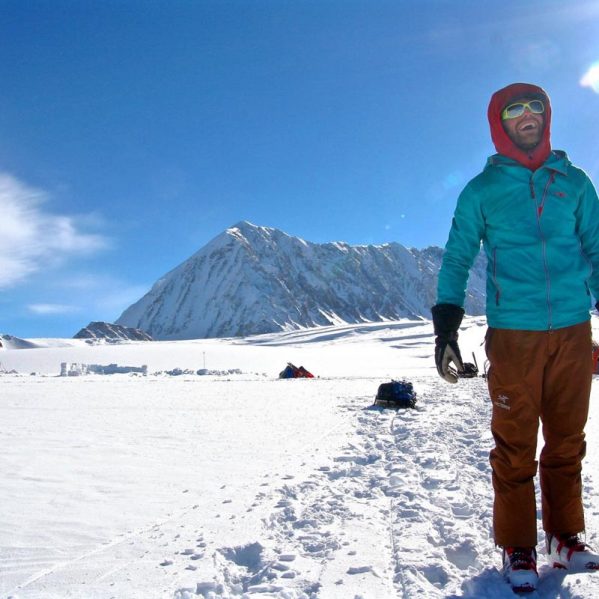 UPDATE: June 5, 2017. The team doesn't have plans to attend Convocation as they have work and other commitments to get to.
UPDATE: May 31, 2017. The team summited on May 30 at 7:10 p.m. Congratulations and high-fives. You've accomplished something inspiring and great. Well done.
———
If the weather smiles, they could be here for graduation.
Five new Adventure Guide Diploma grads are in a race against time as they attempt to scale Canada's highest peak and then ski down before making the necessary connections to possibly make their Convocation ceremony on June 8 at 10 a.m.
It will be tight, but it's doable.
Mark Brophy, Oscar Haley, Nic Hamilton, Carter Jewett and Chris Peterson are climbing Mt. Logan—Canada's highest peak at 5,959 metres. Located in the Yukon in the southwestern part of the territory, it is about 40 kilometres from the Alaska border.
See below for some of the recent text messages by Peterson through satellite telephone.
Calling their adventure Locked And Logan: A Journey To Canada's Highest Peak, it's their way of celebrating graduation while contributing to Canada's 150th anniversary celebrations. They flew into basecamp on May 16 and had allowed a month to do the trek from top to bottom.
Text messages
May 29, 8:48 p.m.
Thurs morn we will leave the plateau, working over prosp Col. Skiing down as far as we can, possibly to base camp. Thanks for following! Keep y'all in da loop
May 29, 8:46 p.m.
If tomorrow goes to plan and the wx (abbreviation for weather) looks good, Wed we will try for the summit. (Sleeping at C5)
May 29, 8:41 p.m.
Tomorrow we hope to move to camp 5 on the summit plateau (skipping 4). This is done frequently as C4 is not far from C3 and is a higher elevation than C5.
May 29, 8:37 p.m.
From right now until Thursday morning there looks to be a window allowing a strong summit push.
May 29, 8:26 p.m.
Looking good*
May 29, 8:25 p.m.
Looking at the wx forecast for the next week, it is not looking after Thursday so after lots of talk of our many options we have come to a conclusion…
May 29, 8:20 p.m.
The clouds parted allowing us to wander up the route a bit today. Made it to 5100m, just shy of camp 4. Dug a cache of food and fuel. Now back at camp 3.
May 28, 8:08 p.m.
Today we obssrveth thy lords day: thou shalt not moveth up thine mountain. Thoust shall restesth (especially when thoust can't see).
May 28, 8:09 p.m.
…#stormday #thebirdsarewalking #firdjon
May 28, 8:08 p.m.
Today we obsesrveth thy lords day: thou shalt not moveth up thine mountain. Thoust shall resteth (especially when thoust can't see).
May 27, 9:23 p.m.
May Wx fx is calling for 70cm in the next 4-5days. Sounds like we will be enjoying our lazy boy set ups for a couple more days. Let the acclimatization begin.
May 27, 9:19 p.m.
After long travel day yesterday, we all had a nice sleep in and due to whiteout weather decided to stay put, rest up, and remodel our camp.
May 26, 2:32 a.m.
Thursday night around 9pm the skies opened up and we took advantage. made a cache just before camp three It was cold but beautiful lighting above the clouds.
May 26, 2:27 a.m.
Sorry for the absence of updates. We've been busy shovelling, playing cards and reading. Thursday was our 8th day at camp 2 due to poor Wx and snow stability.
May 22, 4:48 p.m.
We decided to play the conservative card and wait for the snow to bond a bit more. We will asses again tomorrow.
May 22, 4:42 p.m.
This crux starts as a steep slope followed by cerac icefall sections. After assessing the slope and testing the 60cm of windslabbed storm snow
May 22, 4:40 p.m.
Today's plan was to cache at camp 3 In order to do this we have to move thru one of the main cruxes of the trip
May 21, 11:24 a.m.
This week looks like colder temperatures with very strong winds. We won't be moving camp until the winds decrease.
May 21, 11:21 a.m.
Today will consist of lots of shovelling as we are currently getting pounded with snow. Forecasts seem to say precip will cease in the next 24hrs.
May 21, 11:19 a.m.
Yesterday Mark and I moved up from camp 1 to camp 2 to join the rest of the team. It was challenging conditions to travel through but are glad we are here now.
May 19, 2:10 p.m.
Mark and I plan to join up with the rest of the team tomorrow at camp 2. All good up here on Mt. Logan, taking her easy, one step at a time.
May 19, 2:08 p.m.
Carter and Nic had plans to scout the route to camp 3 (4850m) through the icefall. Oscar planed to rest his knee and hold the fort at camp 2 (4090m).
May 19, 2:08 p.m.
Today is a rest/recover/scouting day. Mark was feeling ill this morning so him and I (Chris) skied down to camp 1 (3170m). Mark is feeling much better already.
May 18, 10:35 p.m.
Keeping our wits about us as conditions start to change and we are moving higher up the mountain. Will see what the weather brings tomorrow.. goodnight