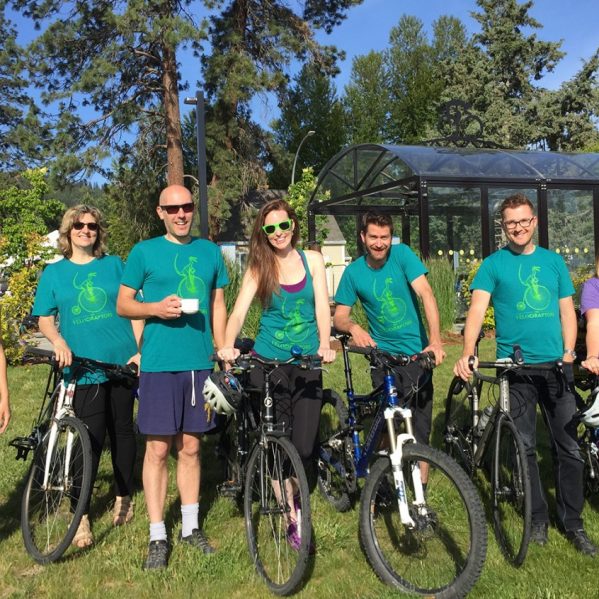 TRU Bike To Work Week is back! This event is a great opportunity for all TRU community members to get involved in this active, sustainable, fun, and free event between May 29 and June 4, 2017. Whether you're a hard-core rider or someone who has been thinking about giving bike commuting a try–or somewhere in between–this event has something for most everyone. The key is to get on your bike for at least part of the week. You can ride one day, or even one way on one day! TRU also now has five bikes available for anyone to use for free; even one electric! (contact the Sustainability Office for details).
Here are the free activities going on all week at TRU and around Kamloops, and how to register.
French Breakfast
May 30, 7:30 to 8:30 am

at TRU Bike Shelter, 'en plein air'!

The French sort of have biking and breakfast figured out, so we stole their best ideas for our event. A simple breakfast will be served featuring fresh croissants, strawberries, cream and French-Roast coffee! Free to all

Kamloops BTWW registered riders (TRU or otherwise), but there's only room for the first 20

people who register. RSVP with James Gordon by May 25 (jgordon@tru.ca).
Bike Maintenance & Safety Clinics
May 6, 13, 20, & 27 from 9 to 11 am at Riverside Park. Hosted by Kamloops Bike To Work Week (BTWW), all BTWW riders are welcome to join these clinics. Learn about bike maintenance, safety and even have an opportunity to talk to the RCPM about biking issues. These clinics can be especially valuable for new riders.
Celebration Station close to TRU
May 31, 3:30 to 6:00 pm at Sahali Centre Mall (Columbia & Summit). Come and enjoy some free snacks, put your name in the grand prize draw, and talk biking after work!
Bike Shwag Draws All Week, Grand Prize Draw & Performance Prizes!
Every TRU rider who logs their kms on the BTWW registration site with a TRU team will have their name put into a draw to win quality bike-related gear: tools, bags, gadgets, etc.. There will be daily draws from May 29 to June 2, as well as a grand prize draw on June 5 (if you win

once, you can't win again). T

here will also be two prizes given to the two riders who ride the most kms, and gain the most elevation during the week.

Cycle Street Café
June 3 from 8:30 to 11:30 am at the Riverside Park band-shell. All BTWW registered riders will receive a free pancake breakfast, enjoy live music with

Bees & the Bare Bones

, and have a chance to get involved in activities, like an obstacle course, a bike show and guest speakers. This event might even start-off with a short yoga class (details tba).
Registration – Done online at https://www.biketowork.ca/kamloops. If you want to be part of a TRU team, sign-up under 'TRU Folks on Spokes' or another TRU team. If you've registered in the past, then go to the blue 'Login' button in the top right corner to register for this year. If you need to register for the first time, then look for the orange 'Register' button in the top right corner. The site also contains what's going on all week around Kamloops and other BC communities, along with bike commuting and safety tips, and a trick for climbing those Kamloops hills (use the bike rack on city buses!)
For more information about the entire TRU BTWW event, please contact James Gordon in the TRU Sustainability Office (jgordon@tru.ca, 250-852-7153).