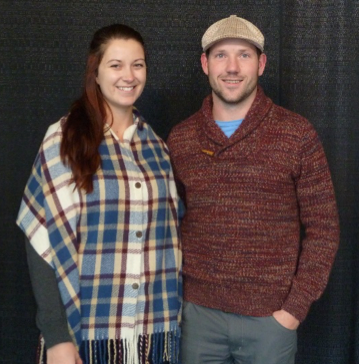 Between February 2nd—National Sweater Day (organized by World Wildlife Fund)—and February 10th TRU hosted TRU Sweater Week to help raise awareness of climate change by turning down the temperature in most campus buildings to 20 degrees Celsius, and encouraging everyone to put on a sweater and dress for the weather. The main activities, however, were on February 9th and here are the results from them:
"The Sweaties" (sweater photo contest). All TRU community members had a chance to show off their favourite sweater and get their portrait taken.
Prizes – There is a $25 gift certificate for each winning category.
Here are the winners in the three categories:

Donation & Swap of Cozy Clothes: Bags of sweaters, mittens, scarves, toques, socks and other warm clothes were donated by TRU community members, and many students and staff members grabbed various items that they needed. It was all done in the name of reusing, sharing, and staying warm. Thanks for helping out!
One lucky student found a deluxe Irish wool sweater! All left-over items will be donated to the New Life Mission thrift shop downtown.

Climate Change & Sustainability Education Quizzes – Forty two people tested their knowledge on these important subjects and took at least one of nineteen 3-minute online Green Quizzes. Try one yourself!
The winner in the Green Quiz draw for a $50 gift card to the TRU Culinary Arts Scratch Café is Terumi Morita (not pictured). Congratulations!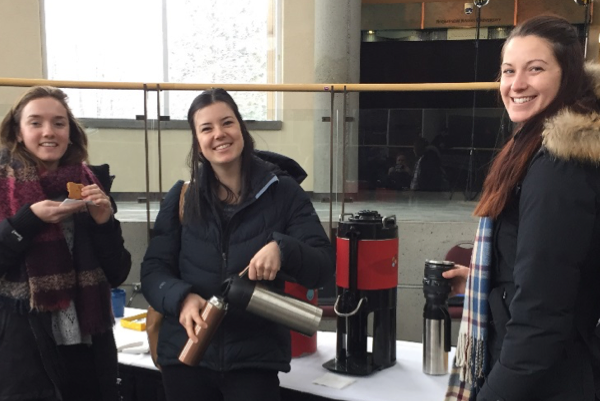 Besides these activities, everyone enjoyed the Hygge Cozy Corner (Google this Danish phenomenon sweeping the world!), and the free coffee/tea and cookies!
See more photos from the event here.
Questions about the event can be directed to James Gordon, Environmental Programs and Research Coordinator, TRU Office of Environment and Sustainability (jgordon@tru.ca; (250) 852-7153).