Posted on: January 31, 2017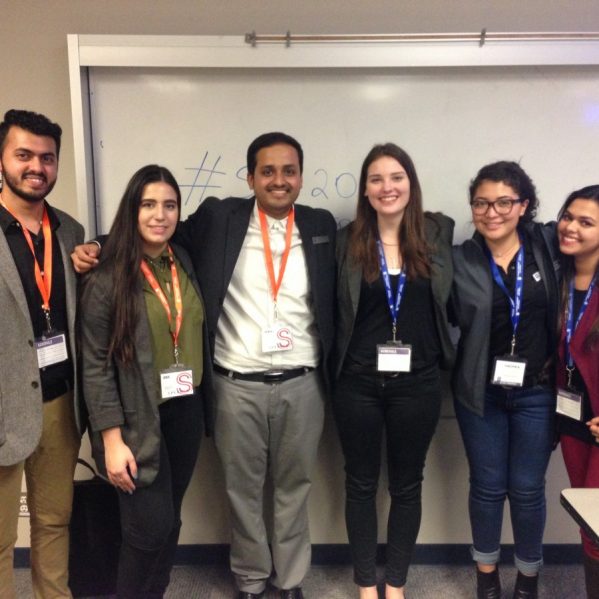 Over 300 students gathered at the 10th annual Student Leadership Conference, hosted by the University of British Columbia, Okanagan (UBCO) on Saturday, January 21.
The theme centered on Curiosity, a celebration that encouraged and discussed the drive that activates student learning and leadership.
Thirty-four TRU students and five staff members attended, representing a vast range of academic departments available on campus: Student Wellness Ambassador Team (SWAT), International Advisors, Orientation and Transitions, Aboriginal Mentors, Pack ACademic Edge (PACE) Leaders, Intercultural Councils Program, Residences, Resident Advisors and Social Media Ambassadors.
Six Ambassadors from the TRU World Social Media team participated in the conference. According to Suraj Shah, International Marketing Coordinator for Social Media and Digital Marketing at TRU World, their mission was "to learn from seasoned professionals and student speakers."
Counted among the student speakers, Suraj and other team members Milap Dadlani and Ana Carolina Bovi presented Influence-Engage-Inspire: How Can a Team of 5 Students Engage 13,000 Students?
Suraj explained social media tools, engagement platforms and leadership positions. "Our team explained how we use modern marketing tools to promote TRU as a global study destination and how we engage international and domestic students on campus."
With well over 500,000 followers on Facebook alone, the TRU Social Media Ambassadors have created an engaging market for pre-existing and prospective students.  Suraj credits leadership as being the core element behind their social media success. "As student leaders, our team directs other students in creating change. Building a campus culture, conducting projects that lead to change, it's all due to the leadership of our Social Media Ambassador team".
"It was a great experience to present in front of a varied audience – from high school students to university recruiters, and we received positive feedback from our audience! Personally, as a speaker, it was the perfect platform for me to express my thoughts and actions to inspire others" Suraj said.
Also in attendance were co-op students Dale Drozda and Sarah Johnston. They agreed that the conference was a fun, positive experience and an opportunity to listen to other leaders. Both noted that meeting up-and-coming leaders from TRU and developing friendships that will further blossom back on campus were bonuses of the event.
Speakers covered topics from conflict resolution, cognitive diversity, to the cultivation of happiness. Subjects such as the destigmatization of mental illness, bystander intervention protocol, community values, the power of improv, and Aboriginal perspectives tied into the concept of leadership and the expansion of our individual mindsets.
These conferences are eye opening and conversation inducing opportunities to compare notes, explore options and to learn more about peer mentorship programs. "It's an educational experience on a much higher level," Dale said.