Posted on: January 20, 2017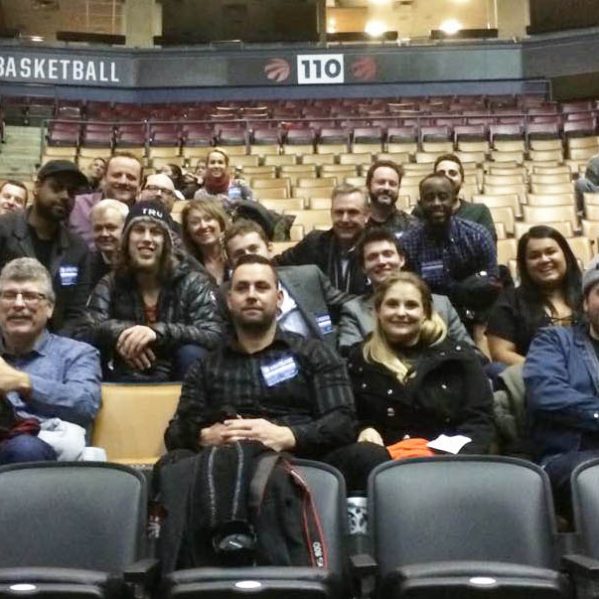 Sports blasting on the big screen, loud cheers and high fives is a common scene for a downtown Toronto sports bar but an unlikely setting to spot a group of TRU alumni.
Twenty alumni and friends who live and work in Toronto got together for a night of networking, storytelling and fun at Bottom Line Sports Bar before heading to a Raptors basketball game on Jan. 10. The group was made up of alumni from an array of grad years and programs, working in a variety of different industries.
Jeffery Coleman, Bachelor of Business Administration '05, said that despite feeling distant from TRU, he was happy to discover others with a similar path living nearby.
"I read the alumni newsletter and sometimes feel disconnected because I live so far away," said Coleman. "It was nice to meet others who live and work in the city—it's great that there is a commitment from the university to connect with those of us out in Toronto."
"What was most surprising to me, was to meet people who attended TRU through Open Learning. It's really neat to see that my alma mater is serving a totally different population of students that don't have to study on campus, it's really unique and amazing," he said.
One of the alumni he was referring to was Janet MacMillan, an Open Learning alumna who was able to capitalize on the flexibility of distance education at TRU and is now the Director of Finance at the University of St. Michael's College in the University of Toronto.
"This event made me reflect on how my experience with OL led to my career success," said MacMillan. "The courses I took were exactly what I needed—the flexibility fit my schedule while balancing two small children, a busy lifestyle and a job. My experience with TRU was integral in my success and now I have a great job that I love," she said.
Another grad in attendance was Sultan Sandur who graduated in 2006 with a Bachelor of Arts. Sandur is the entrepreneur behind Just Sultan, an accessory line for both men and women that include pieces handcrafted in Toronto. His work has been on display at Toronto Men's Fashion Week and his bowties have been featured in Huff Post Canada Style. 
"As an alumnus, I feel that it's important to stay connected with my alma mater. However, being in Toronto makes it extremely difficult to remain as active as I would like," said Sandur. "When I was contacted about the event, I jumped at the chance to meet fellow grads who are residing in Toronto. I thought it would be an excellent opportunity to network and share our TRU experiences. I actually met a few people who even attended TRU at the same time as me."
The event was the first alumni gathering in Toronto, but will definitely not be the last. As graduates continue to live and work in cities across the country, more regional events are likely to take place.
"It was a pleasure to meet the many TRU stakeholders from Toronto and surrounding areas," said VP Advancement, Christopher Seguin. "Although geography creates distance between us, our shared passion for education and TRU brought us close together. Sharing memories, food and an amazing basketball game was one of the best alumni event experiences I have ever had."
Connect with the TRU alumni organization to stay informed of alumni events coming to a city near you.