Posted on: January 20, 2017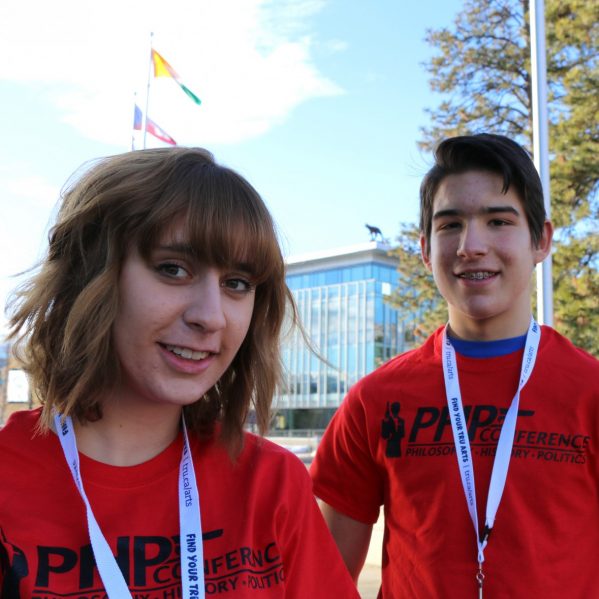 The annual student-organized and student-run Philosophy, History and Politics (PHP) Undergraduate Conference is an excellent opportunity for students to present their research to peers from TRU, other institutions, faculty and the community.
Close to 300 registrants are participating in the PHP Conference this weekend. Which is almost a doubling in numbers from last year.
There are 22 different presentations from 50 different students on topics ranging from Race and Identity in the Eyes of the Law to Feral Feminism and Sexual Assignment to Witches and Princess: Power in British History.
Seventeen of the presenters are from out-of-town, with students from more than 12 institutions, visiting from as far away as Queen's University in Kingston, Ontario.
Megan Fenkhuber is a recent Bachelor of Arts graduate with a history major and an Aboriginal Studies certificate. She is also this year's PHP Conference Chair and is excited to see the success of the event unfolding this weekend.
"We've been working on this for almost a year, we've met weekly for the last five months. It has been a big project for all of us." said Fenkhuber.
"The fundraising team raised $1000 through socials, Braden recruited all of the out-of-towners and Kelcey, as secretary has done so much to keep us organized," she remarked thankfully. "This team and the experience has been amazing."
TRU's PHP Conference has become so successful that it has inspired similar conferences at Mount Royal University and Vancouver Island University.
When TRU's 10th Annual Conference wraps up, the plan is to take a selection of the presented papers and have them added to the library commons. They will then be available for peer review and eventually be published into a PHP Conference Journal.
Dozens of high school students are also joining in the conference this weekend. "I wish I could be at all of the presentations this morning. Unfortunately, they're overlapping, so I just picked a few I'm most interested in," said Matthew Ciardullo, from Brocklehurst Secondary School.
"I'm interested in local and global politics, so it's great to be on campus and hear from university students who are becoming experts in those areas," said Molly Foxall, a Westsyde Secondary School student. Both Ciardullo and Foxall agree it's inspiring to see students just a few years older present in the university environment.
The conference started Thursday but there are still several highlights that participants can look forward to.
"We're interested to hear Dr. Joe Anderson this evening." Dr. Anderson's talk is titled White on Black: The Deep Roots of How White America Talks About Race and Politics. "It's so fitting seeing as this is inauguration day in the US," added Fenkhuber. The committee selected and secured Dr. Anderson as the external keynote back in June. 
The PHP Conference committee is made up of 11 Faculty of Arts students, nine of them will be graduating this year. Students who would like to get involved in next year's conference are invited to email tru.phpconference@tru.ca
For more information on the conference and events this weekend, including the Diamond Anniversary Banquet, visit the student-run PHP Conference Facebook page or their website.