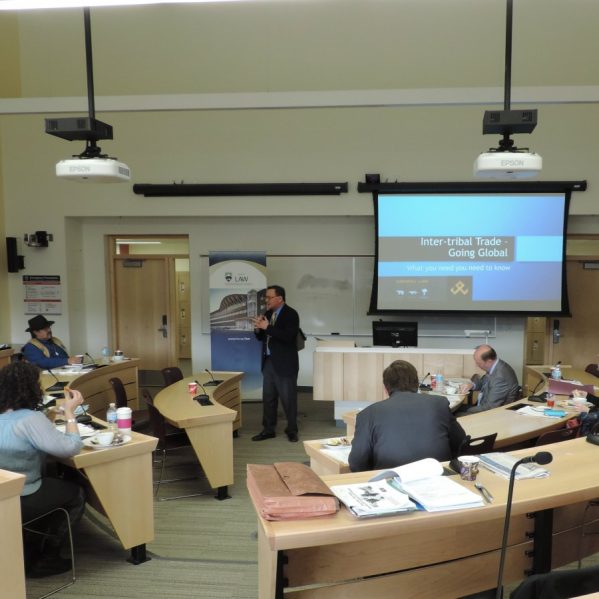 Approximately 30 individuals spent the weekend discussing cross-border Indigenous trade and investment opportunities at the International Inter-tribal Trade and Investment Organization (IITIO) conference Nov. 11 to 12. IITIO is a new initiative to build trade capacities between Canadian and US Indigenous Peoples.
IITIO's first conference was held in April at the University of Oklahoma's College of Law. The inaugural Canadian conference was hosted by TRU Law at the TRU campus in Kamloops, situated on traditional Secwepemc territory.
Wayne Garnons-Williams, conference organizer and IITIO chairperson, says the forum is a space for Indigenous economic and political leaders to come together to pursue a vision of global inter-tribal trade.
"The scope of this conference is to facilitate productive discussion, objective research and effective education with respect to international inter-tribal trade and investment," he said.
TRU Law Dean Brad Morse hosted the event, which drew both Canadian and American tribal dignitaries as well as key senior government officials. Morse says it is fitting to host the IITIO at TRU Law, as the curriculum includes a range of courses with related Indigenous content.
"Over two-thirds of our first-year courses include distinct consideration of relevant Aboriginal legal issues, as do over one-third of our upper-year courses," said Morse, adding that TRU Law is exploring further initiatives to expand its curriculum in light of the Truth and Reconciliation Commission's Call to Action #28, directed at Canadian law schools.
Attendees included Shane Gottfriedson, BC Regional Chief for the Assembly of First Nations; J.P. Gladhu, President, Canadian Council for Aboriginal Business (CCAB); the Honourable David Zimmer, Ontario's Minister of Indigenous Relations and Reconciliation and Christian Hansen, Senior Trade Commissioner for BC and Yukon with the Canadian Trade Commission Service.
Bringing together leaders in the fields of law, economics, history, business, tribal economic development and government, the conference aims to identify gaps and challenges in key areas for Indigenous international trade, such as the Jay Treaty, NAFTA and the Canada/USA border crossing.
IITIO plans to hold semi-annual conferences, rotating between Canada and the US. The event includes business briefings, market and sector presentations, networking opportunities, site visits and meetings with senior officials and ministers.
For more information:
Wayne Garnon-Williams
IITIO Chair
613-614-6277
garnonswilliams@gmail.com