Posted on: September 30, 2016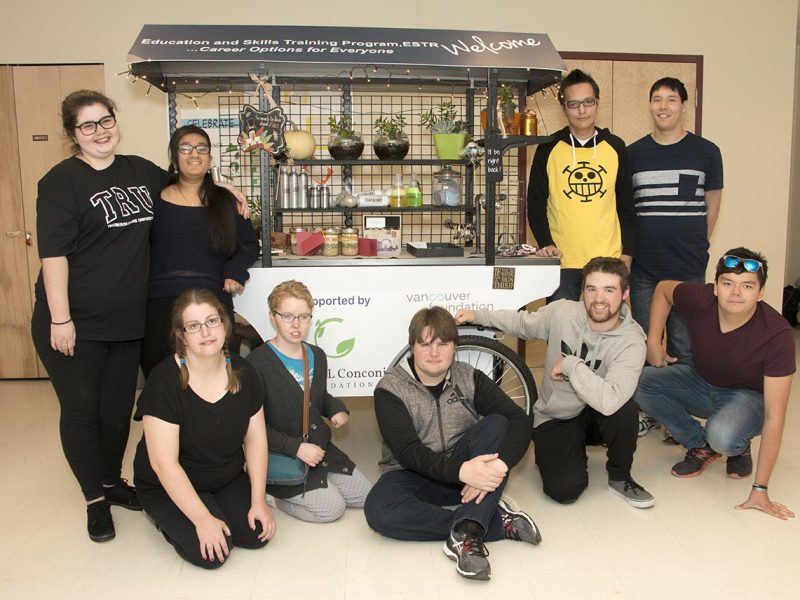 The Education and Skills Training (ESTR) program's retail cart is ready to roll into Student Street for its third year of operation.
The kiosk reopens Oct. 6 and will be in Student Street most Thursdays from 9 a.m. to 2 p.m. Cash, debit and credit is accepted.
ESTR provides skills and knowledge for those with cognitive disabilities wanting to work in one or more of three different areas: retail, kitchen assistant and automotive assistant. Operating the retail kiosk provides opportunities for the students to put their classroom learning into practice .
At the kiosk you'll find handmade pieces by area crafters, various items from the TRU Bookstore and packaged food created by ESTR's kitchen assistant students.
Second-year ESTR student Melissa Mahoney is excited to be working her first semester at the kiosk.
"I'm generally a people person and it's easy for me to strike up a conversation," she says, and thinking on her feet, uses a nearby piece of electronics to reinforce her points. "If you wanted to buy this camera, I would ask what kind of lens you want; what kind of features are you looking for; do you want one that has video? You need to know what kinds of questions to ask."
The cart also offers the opportunity to practice arranging and displaying merchandise and Surbhi Spolia is looking forward to putting her design flair towards creating eye-catching arrangements.
"When you're running a store, you have to make things look interesting for the customers," said Spolia. "You're placing things in certain positions because you have inventory to sell."