Posted on: May 12, 2016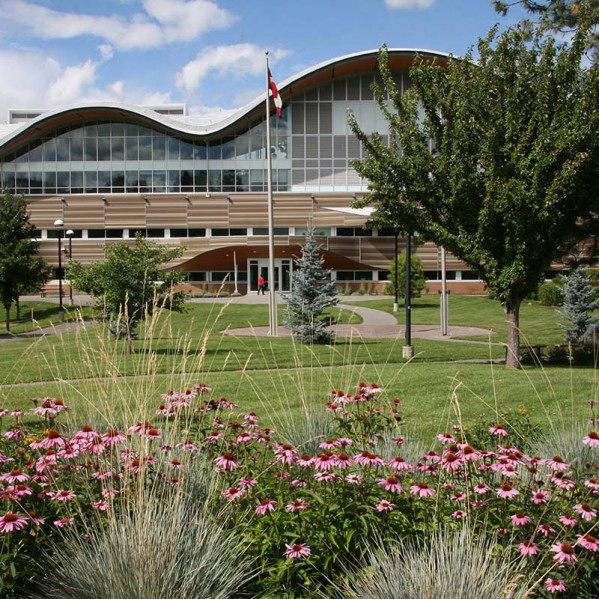 Ah, summer.
We love this season on campus—our community atmosphere is front and centre. Kids in sports or science camps gather on the lawns. Students are out conducting research projects or studying in the sunshine before summer session classes. International students in short immersion programs learn our culture and share theirs. Visitors from around town and around the world converge for conferences and events. You'll even see staff competing in an annual bocce tournament.
Summer is also a great time for prospective students and families to come see what TRU is all about. Enjoy the best views in the city as you learn more about campus on a guided tour.
Our most popular summer activities are listed below. Check out our events calendar for more.
Garden tours
Find inspiration for your home garden during free tours of the Horticulture Gardens, Wednesday evenings through mid-August. Themed tours are led by a member of the TRU Friends of the Gardens, featuring annuals, perennials, planters, trees, grasses, shrubs, water features and more.
Tours begin May 11, 6:30-7:30 p.m. Meet at House 10, across from the Campus Activity Centre.
EUReKA! science camps
Curious minds aged 7 to 13 learn about the fascinating, mysterious, and often zany sides of science at EUReKA! science day camps. Campers will enjoy an interactive week of demonstrations, hands-on activities, group activities, building projects, university tours, outdoor activities, and games.
In addition to this year's Girls' Weekend at Harper Mountain, there will be an all-girls camp from July 11-15. Check out the Girls Only Week page for more info.
This year Technology Camp (age 10 to 13) will include the Codemakers initiative, a national program powered by Actua and Google. Seats are limited to 20 and fill up fast.
Register now for EUReKA! online or call 250-371-5534. Teachers, check out EUReKA!'s in-class workshops, available May 12 to June 21.
Summer sports camps
Kids age four to 18 have an opportunity to learn new skills and the value of teamwork, be active and make new friends at TRU's McDonald's Summer Sports Camps. Sports include basketball, volleyball, soccer, racquet sports, water sports, Girl Power, Junior Pups and more. New this year is Adventure Basics, which includes hiking, mountain biking and rock climbing. There's even a sports camp taught in French.
Sports camp registration is open now—by phone, in person or online.
WolfPack performance camps for basketball, volleyball and golf are also available. The intensive Olynyk Klynyk runs July 19-22.
Campus tours for prospective students
Experience campus in a low-key and relaxed environment during a guided tour led by a current student or recent TRU grad.
Learn your way around, indoors and out—you'll see where your classes might be, what the residences look like, where to find the libraries and services like advising, the writing centre and counselling, where to get something to eat and other things to ease you into university life.
In May and June, the student recruitment team offer tours by request Monday to Friday between 9 a.m. and 3 p.m. Advance notice is greatly appreciated. For the months of July and August, tours are offered at 10 a.m. and 2 p.m. on Mondays and Fridays, and at 10 a.m. on Tuesdays, Wednesdays and Thursdays (excluding statutory holidays). Much of the tour is outside, so dress for the season and wear comfortable shoes.
Pre-register using the online booking form. Tours start on BMO Student Street in Old Main.
Intercultural activities
Did you know that International Student Activity Program (ISAP) events are open to international and domestic students and if space is available, to staff and faculty as well? Summer 2016 activities include trips to the Okanagan and Whistler, dinner theatre, Caravan Farm Theatre, Kamloopa Powwow (free) and white-water rafting.
Tickets are available at the ISAP Desk in the International Building between 10 a.m. and 2 p.m. on Tuesdays, Wednesdays and Thursdays. Email isapcoordinators@yahoo.ca for more info.