Posted on: April 20, 2016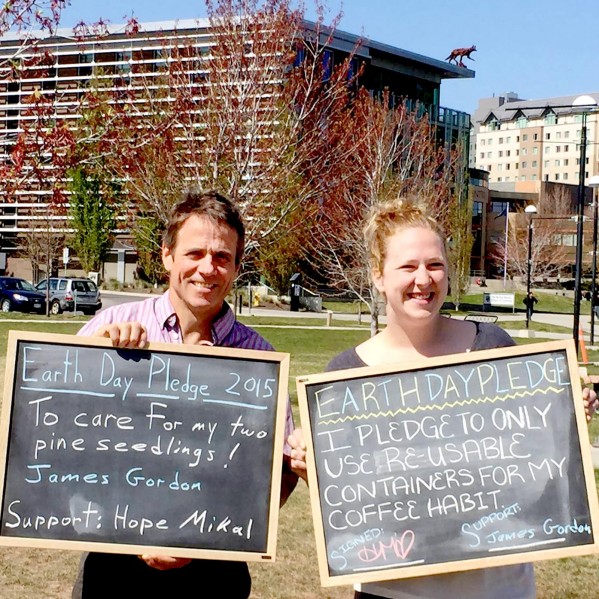 April 22 is Earth Day, the annual international day of environmental action. It's the one day a year we are reminded to celebrate this beautiful place we live and make a pledge to become more mindful of the environment.
We are lucky enough to be a hub for sustainability at TRU and celebrating Earth Day is just one more way to highlight our appreciation for the planet.
10 Ways TRU does Earth Day every day
1. Zero waste and recycling
Our mission is to become a zero waste campus. Throughout the campus you will find zero waste stations to help you properly dispose of unwanted waste and trash.
2. Carpooling
TRU offers a rideshare carpool service. Employees and students are matched using home addresses and work schedules. Choose who you want to contact with no obligation.
3. Energy efficiency
TRU is continuously looking for opportunities to improve our existing building energy efficiency and constructing new buildings that are energy efficient. In 2010 the campus underwent an extensive energy audit, followed by a $1.5-million energy retrofit encompassing 78 percent of the campus building area. The House of Learning is LEED gold certified.
4. Sustainable dining
There are multiple sustainable dining options on campus. Culinary Arts regularly provides local and organic food options at their cafeteria. Common Grounds offers fair trade organic espresso, biodegradable cups and containers and Aramark adheres to the Green Thread environmental stewardship program which strives to provide sustainable food, practice responsible procurement, waste management, and conserve energy & water.
5. Paper-less office
You can create a secure digital signature set-up by the TRU Information Technology Department to help cut down on office paper.
6. Water conservation
To help reduce waste and pollution associated with disposable water bottles, TRU has established water bottle refill stations on campus.
7. Idle free zones
One of our sustainability goals is to reduce energy use and air emissions. Idle-free zones  help achieve this goal.
8. Research
There is a lot of faculty and staff research being done on sustainability leading towards solutions that simultaneously support social well-being, economic prosperity, and ecological health. Check out the sustainability research inventory.
9. Grants
The TRU Sustainability Grant Fund was created with the goal to advance environmental, economic and social sustainability at TRU. $100,000 will be available for each application intake, and there will be one intake each year. All Proposals must be accompanied by an original 90-120 second YouTube video.
2014 TRU Sustainability Grant Fund Video
10. Clubs and groups
There are multiple clubs and groups on campus that are committed to campus sustainability, natural resources and the environment. Check them out.
Celebrating Earth Day
TRU Office of Sustainability invites you to participate in Earth Day on Friday, April 22 from 12 – 3 p.m. in the Campus Commons.
Activities include:
Baked s'more bars in a solar oven.
Free compost from the on-campus compost.
Free vegetable seeds, compliments of Kamloops community gardeners.
Make your Earth Day Pledge for the year for a chance to win a prize.
Bike to Work Week around the corner
TRU participates in the annual Bike to Work Week Kamloops, which happens at the end of May. Throughout the week sustainability hosts a number of events to support the initiative. Registration is online. 
For more tips on how to make a big difference through small actions, download the TRU Green Guide.