Posted on: May 12, 2015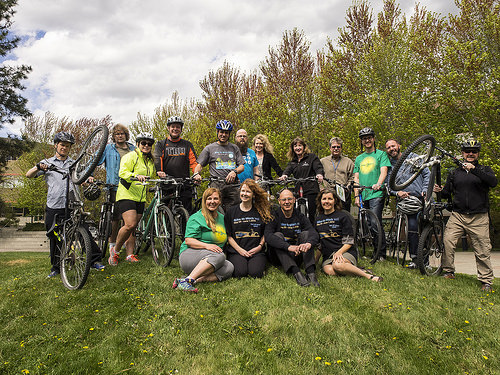 The following invitation is from James Gordon, who is TRU's programs and research coordinator in the Office of Environment and Sustainability. He is also organizer of TRU's participation in Bike To Work Week (BTWW). BTWW is among the many green initiatives spearheaded by the department. 
We invite all staff, faculty and students to join TRU's team for this year's Kamloops Bike to Work Week taking place May 25 to 29. Registration and the many events throughout the week are free.
Whether you want to ride to campus and back home from Juniper or from just a few blocks away, the main point of this event is to be safe, get some exercise, and enjoy your ride. And don't forget you can ride one way and use the bike rack on the city buses for the other way—to help out with those hills.
Registration is online and if you want to be part of the TRU team, sign-up under TRU Folks on Spokes. The site also contains events in Kamloops and other BC communities.
Weekly Events at TRU
Registration & Bike Oddities Expo
Tuesday, May 19, 9 to 11 a.m., Student Street
This is a chance for anyone at TRU to speak to past BTWW riders about what the event is all about; to register on our laptop if you haven't already; to enter for free bike shwag; and to enjoy some bike oddities the likes of the TRU blender bike (Ice cap samples available), demo the electric bike (and then take it free for a week); try the new bike generator (and help power the laptop); and test a city bus bike rack (before you try it for real in front of a packed bus).
Free bike repair clinic
Tuesday, May 26, 4:45 to 5:45 p.m., TRU Bike Shelter (across from the daycare)
This is open to the first 12 people on the TRU BTWW team who register. Bike mechanic Jim Kenney will go over some of the basics—and not-so-basics—of bike maintenance, and will also bring some electric bikes for people to demo.
Registration: James Gordon, TRU Environment and Sustainability department, jgordon@tru.ca, 250-852-7153.
Continental breakfast
Wednesday, May 27, 7:30 to 8:30 a.m., TRU Bike Shelter
In honour of the great European biking cultures, come and enjoy breakfast on us. Free to all Kamloops BTWW registered riders (TRU or otherwise). On the menu: strong coffee, fresh fruit, pastries, and the open air.
RSVP needed by May 25 at 4 p.m. RSVP: jgordon@tru.ca, 250-852-7153.
Free Bike Schwag all week
Every rider registered with the TRU team will have their name put into a daily draw to win sweet bike-related quality gear the likes of tools, pumps, bags, and more. Unfortunately, people cannot win multiple times.
More information
James Gordon
jgordon@tru.ca
250-852-7153
Media enquiries
James Gordon
Programs and Research Coordinator, TRU Office of Environment and Sustainability
jgordon@tru.ca
250-852-7153