Posted on: February 4, 2015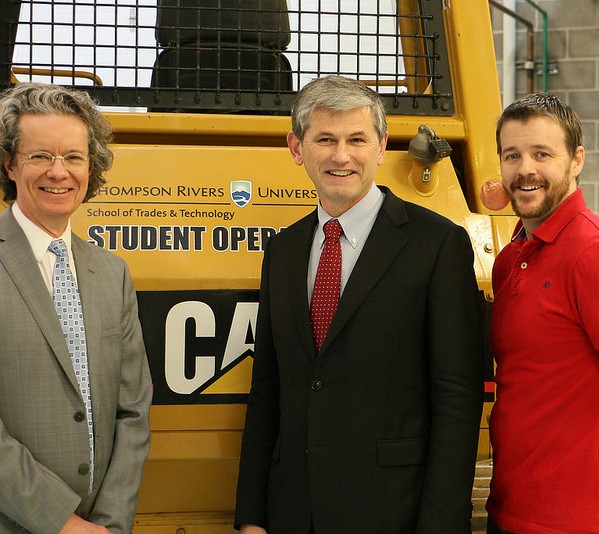 TRU will receive $325,274 to purchase new trades training equipment as part of BC's Skills for Jobs Blueprint. The new equipment will support trades students who are entering in-demand occupations that are critical to the economy.
"Thompson Rivers University continues to work with government and industry so that our students can have increased access to the training and technology they need to get jobs," said TRU president Alan Shaver. "Our collaboration with our industry partners ensures we deliver first-class trades training and certification that is highly responsive to labour market needs. This funding, combined with funds for new trades training spaces announced last year, will help TRU continue to provide more students with a chance to contribute to BC's economy as skilled graduates and apprentices."
Consultations with institutions, the Industry Training Authority and the most recent labour market data all informed funding allocation decisions. The $325,274 in 2014-15 for trades training equipment is part of BC's Skills for Jobs Blueprint commitment of $185 million over three years for trades training infrastructure and equipment at public post-secondary institutions.
"Trades students will help build our economy. Many of the in-demand occupations are trades related such as heavy-duty mechanics, gas fitters and electricians," said Advanced Education Minister Andrew Wilkinson. "Government is doing its part by ensuring trades students continue to have access to training equipment that meets the latest curriculum and industry requirements."
Trades training equipment TRU will purchase with the provincial funding will include a power threader for pipefitter/plumbing students, jacking and lifting equipment for heavy mechanic students, a scaffolding kit for carpentry students, a gas-fired warm air heating trainer for gasfitter students, and two Rational ovens for culinary arts students.
Funding for trades equipment builds on the announcement in July 2014 of 52 additional critical trades training seats for TRU and an announcement in October 2014 of 48 additional critical trades training seats for the Williams Lake campus.
"Thompson Rivers University trades training students have access to top-notch instructors and facilities, and industry-standard equipment," said Kamloops-North Thompson MLA Terry Lake. "This helps ensure students get the right training they need to be first in line for long-term, well-paying jobs to support their families."
More information:
Richelle D. Funk
Ministry of Advanced Education
250 356-7876
TRU Media Relations
marcom@tru.ca