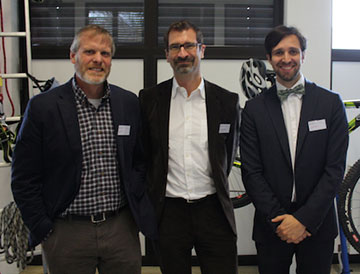 TRU collaborated with the University of Applied Management (UAM) in Treuchtlingen, Germany, our partner in the International Strategic Network, to mount the third annual conference on Adventure Management on Nov. 18.
Organized by UAM's Dr. Manuel Sand, the conference brings together academics and industry partners to discuss future plans for adventure tourism marketing strategies in peripheral areas, focusing on how local regions can develop sustainable tourism products using adventure sports to draw more funds to local economies.
Dr. John Hull, associate professor in TRU's Tourism Management department, gave this year's keynote address. In laying the foundation for the day's workshops and presentations, he provided the academic fundamentals for the topic, reviewing current literature on tourism studies. Referring to his own experience, he cited five international case studies that demonstrated how peripheral areas have managed successful tourism opportunities, including dog-sledding in Greenland, overnight adventure cruises in New Zealand, and gorge hiking in Jordan.
"Being able to provide film and video to promote the tourism experience you are marketing is a key to success," Hull advised participants. "For years, I have found that engaging students as research participants in these projects, having them document their experience via video, and then posting it on YouTube, has been a great learning tool for them, as well as a boon to the local tourism provider."
Sand agrees. His students' video work on stand-up paddling premiered at the conference. "The course they took was about international expedition planning," he said. "The students organized the trip, and added an environmental component by collecting five hundred kilos of garbage floating on the Olt River in Romania. Students also documented the experience on video, with a view to marketing stand-up paddling tourism experiences."
TRU and UAM are discussing a potential opportunity for collaboration between faculty and students as part of course work at the two universities, possibly a bilateral international sport event related to mountain biking in Treuchtlingen and Kamloops.
Related stories
Partnership expands opportunities
Agreement signed with University of Bremen
More TRU News