Posted on: October 21, 2014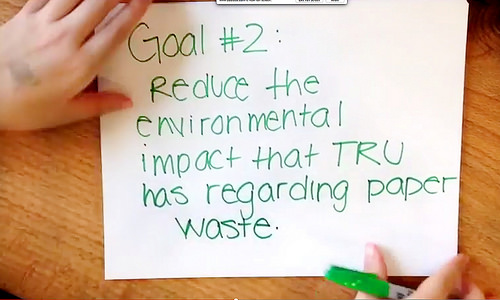 Have a green idea that could fly at TRU? Applications are now being accepted in the latest round of the Sustainability Grant Fund for sustainability-related projects, initiatives or research.
TRU students, staff and faculty can access up to $100,000 through the fund overseen by TRU's Environment and Sustainability department.
New this year is $20,000 set aside for sustainability-related research or curriculum development. This money is available to students and faculty.
---
Key Dates and Deadlines
November 16—Pre-Proposal due. This 500-word snap-shot of the project is an outline of the who, what, why, where, when, how much, etc.
November 21—Pre-Proposals returned with comments.
November 27—Grant Writing Workshop from 4:30 to 5:30pm in the TRUSU Lecture Hall. This is a voluntary workshop and open to anyone.
February 10, 2015—Full Proposals due and this includes an original video of the project and 90 seconds to  two minutes in duration. Videos are to be posted to YouTube.
February 25, 2015—Proponents notified
---
More details and to review the grant criteria
---
View two successful proposals from last year
Watch the videos below to learn more about two proposals that went through the process last year and were chosen as winners.
BDMS Licenses & Scanners—Scan paper documents to digital to decrease time searching for documents and decrease space needed to store paper files.
———————
The Green Hands Project—Reduce amount of paper towels used in washrooms and use that saved money for other projects.
---
More information and media enquiries
TRU Office of Environment and Sustainability
Phone: 250-852-7153
Email: sustain@tru.ca.