Posted on: March 21, 2014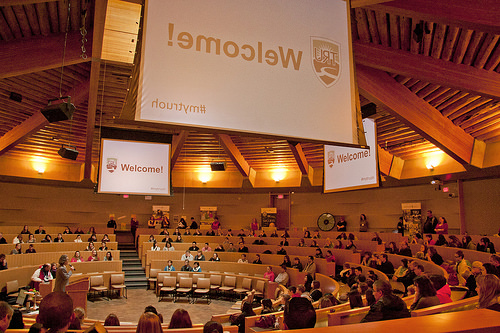 Over 300 high school students took TRU up on its Open House invitation on Friday, March 21.
It was the first time TRU Recruiters focused their efforts on the one-day format and organizers were pleased with the turn out. "We are seeing students from Alberta, Ontario, Saskatchewan, and throughout the Lower Mainland," said Reta Langlands, TRU Recruiter.
Prizes were handed out to the students at the welcome in the Irving K. Barber Centre. Brittany Sing, from Salmon Arm, BC, won an iPad mini in a draw. She's interested in majoring in psychology and expects to be enrolled in the Bachelor of Arts program this September. There were also prizes for being the first person to register for Open House, traveling the farthest as well as wearing odd socks.
Before heading out for tours and information sessions with their chosen programs, the students, many with parents, were welcomed by Dr. Alan Shaver, TRU President and Vice-Chancellor, and Angelique Saweczko, Associate Vice-President Strategic Enrolment and University Registrar.
Follow the converstation on Twitter at #mytruoh
"I remember a day very much like this one when I was in Grade 9 living in Ottawa," Shaver said in his address. "Coming to university that day and learning about the things I could learn there inspired me to have a career in science, to become a professor. People like me are going to be retiring soon, so there will be lots of opportunity for students who come to university."
Bronte Roberts, a high school student from Hope BC attending Open House with her friend Sarah Isbister, appreciated what Dr. Shaver had to say. "He was in grade 9 when he first thought about university, I liked hearing that."
Bronte is interested in TRU¹s nursing program and thought hearing from students in each year of the program was helpful.
"The program is competitive, only accepting 80 students. I was good to learn that I could be working on the courses I needed for first year, even before I am accepted to the program."