Posted on: March 1, 2013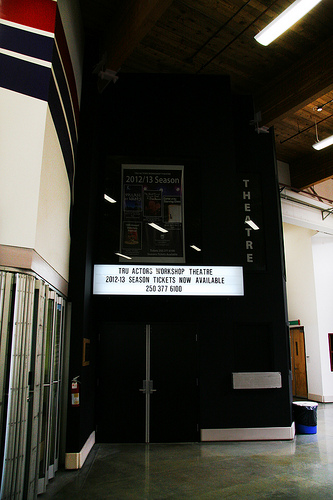 ARVE Error: Element ID could not be build, please report this bug.
The Black Box Theatre in Old Main (located beside Tim Hortons) has a new coat of paint and a marquee for the 2012-13 theatre season.

Home to TRU's theatre courses and programs the theatre is also where TRU Actors Workshop Theatre stages its productions. Read a list of past productions.

______________________________________________________________________

UPCOMING PRODUCTIONS

Tickets available at the theatre box office
or by phoning 250-377-6100. Tickets for the Directors Festival are $12 each night, or $18 for Night A and one Night B.

The Director's Festival

One-act plays directed by senior directing students.

Night A | April 8, 10, 12
Night B | April 9, 11, 13

Night A (April 8,10,12)

Act I
Just Thinking by Alan H Kravitz, Directed by Shondra McLaurin
Joshua's had sex on the brain ever since he first heard the word orgasm. He spends the afternoon with the Perfect Man, but soon his ideal bride, the Nice Jewish Girl gets jealous and decides to make an appearance. When the Perfect Man says to her, "You may be Josh's bride, but I'm his best man," Joshua is left just thinking.

Bright. Apple. Crush by Steve Yockey, Directed by Justin Hall
A sadistic and twisted tale of murder. It observes the life of three individuals and how they came to find killing as a solution. Come indulge in the ruthless stories of Nancy, Ethan, and Dan and be stunned by how murder could be such a simple solution. You may even approve…

Act II
Darlene by A.R. Gurney, Directed by Ryan Lavery
Angela finds a strange letter on the windshield of her minivan; a letter that could be threatening, possibly erotic, a letter addressed to Darlene. Angela and her husband, Jim, spend the evening mulling over this letter. He is shocked by its explicit content, while Angela is thrilled by the excitement of it in her otherwise unvarying life.

____________________________

Night B (April 9,11,13)

Act I
Small's World by John Chambers, Directed by Caitlin Stanley
Lingerie. Vibrator. Mother. Son.
Small's World is an exploration of a mother and her son. It asks the question "Do you really know your own family?"

Bitter Sauce by Eric Bogosian, Directed by Kelsey Gilker
A bride. A groom. …And a biker. The course of true love never did run smooth, and it certainly doesn't for the zany characters of this eccentric black comedy, inspired by Shakespearean Sonnet 118.

Act II
A Marriage Has Been Arranged by Alfred Sutro, Directed by Jared Raschke
In an upper-class world where rules mean everything and social boundaries are never crossed, two people finds themselves as outsiders. The story follows two characters, Lady Aline De Vaux who, although raised in upper society, cannot find it in herself to follow the rules set before her, and Mr. Harrison Crockstead, a man who has recently acquired wealth but cannot find it in himself to adopt the stature which his prosperity has given him.

Mary Just Broke Up With This Guy by Garth Wingfield, Directed by Brittany McCarthy
…and now she's back on the market. After six years in a relationship, she's a bit rusty at this whole dating thing. How many dates will it take to find Mr. Right? 2? 6? 23? Or will she forever be alone?

ARVE Error: Element ID could not be build, please report this bug.


This video clip is from Darlene by A.R. Gurney and directed by senior directing student Ryan Lavery.

______________________________________________________________________

2012-13 SEASON PAST PRODUCTION

Village of Idiots
Oct. 11-13, 18-20
By John Lazarus
Directed by Robin Nichol
A hilarious farce written by one of Canada's best-known playwrights.
Things don't seem quite right in the village of Chelm or so outsider Yosef thinks. There is a respected tradition of Yiddish folktales in which good and simple Jewish folk solve their problems in ways that defy good sense and rationality.

This is the story of Yosef—an army deserter running way from the war. While running away, Yosef wanders into the "Village of Idiots", where he finds out just how wise idiots can be.

ARVE Error: Element ID could not be build, please report this bug.

______________________________________________________________________

The Good Soul of Szechuan | Nov. 22-24, Nov. 29-Dec. 1
By Bertolt Brecht | Directed by Heidi Verwey
This epic modern parable examines greed and power, and suggest that society's morality is determined by its economic systems. "Goodness", which seems so simple in the title, is revealed to be multi-faceted.

The central character, Shen Te, must go to creative lengths to figure out how one can possibly come to a good end in an imperfect, money-centred, class-divided society.

ARVE Error: Element ID could not be build, please report this bug.

CAST for THE GOOD SOUL OF SZECHUAN

Wang — Dan Ondang
Shen Te/Shui Ta — Brittany McCarthy
First God — Brooke Ballam
Second God —Wyatt Purcha
Third God — Jessica Buchanan
Mrs. Shin — Ashley Duggan
Carpenter — Taylor Peinhaupt
Nephew (Niece #2) — Emily Thibert
Wife — Nicola Tabata
Father (Julian) — Zhuolin Ye
Policeman — Shevani Ann
Priest — CJ Renee
Agent/unemployed man — Emily-May Olson
Mr. Shu Fu — Matt Hardy
Yang Sun — Nich Gulycz
Mrs. Mi Tsu — Mercedes Basford
Mrs. Yang — Meagan Petrie
Gentleman — Joshua Tanuwijaya
Client — Adrianne Hajdasz
Brother — Aby
Sister in Law — Maryann David
Grandfather/Otto Titsling/Singer — Julian Simpson
Boy / Child — TBA
Niece/Young Prostitute — Kya MacPherson-Taylor
Old Prostitute — Richelle Rondquist
Waiter — Heidi Robinson
Addicts — Robin Arundel, Martina Doucet, Celine Majcher
Mrs. Fo (Moko) — Yijia Li

______________________________________________________________________

Curse of the Starving Class | Feb. 28, March 2, March 7-9
By Sam Shepard | Directed by Wesley Eccleston
The setting is a farmhouse in the American West, inhabited by a family who has enough to eat, but not enough to satisfy the other hungers that bedevil them. As the family decides to sell the house to raise money, the mother talks of running off to Europe, the father sobers up and tries to take control, the daughter is arrested for shooting up a bar, and the son is left brutalized and bloodied.

In the end, the characters become a metaphor for the underside of American life—benighted innocents pursuing a dream that remains beyond reach.

ARVE Error: Element ID could not be build, please report this bug.

______________________________________________________________________
Read a list of past productions.