Posted on: January 9, 2013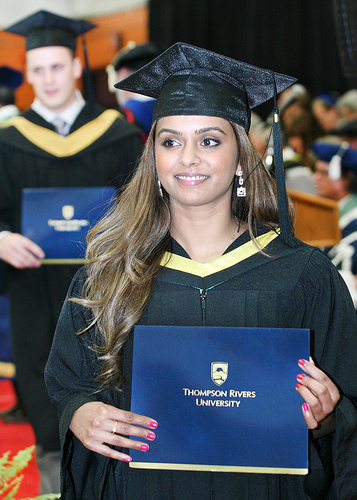 For the first time ever, TRU will be spreading Spring Convocation over three days this June.
Ceremonies are scheduled to run June 12, 13, and 14, with a ceremony each day at 10am and 2pm.
Each of the six ceremonies will be about 90 minutes in duration and all will be held in the TRU Gymnasium.
Gowning will take place in the lower level of the TRU Gymnasium and the reception following each ceremony to be held in the area above the main floor.
All ceremonies will be streamed live over the Internet at www.livestream.com/livetru
………………………………………………………………..
The schedule is as follows…
WEDNESDAY, June 12, 2013
10am
→ Faculty of Adventure, Culinary Arts and Tourism
→ School of Trades & Technology
2pm
→ Faculty of Arts
…………………………………………………………
THURSDAY, June 13, 2013
10am
→ School of Nursing
2pm
→ Faculty of Science
…………………………………………………………
FRIDAY, June 14, 2013
10am
→ Faculty of Human, Social, and Educational Development
2pm
→ School of Business and Economics