Posted on: September 6, 2010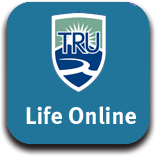 It's finally September, like it or not you're back at school. To help you find the information and services you need we've created this handy reference. Post a comment if you think we've missed something and have a great semester!
Your First Week
TRU Bookstore
The bookstore is located in the Campus Activity Centre
TRUSU, the TRU Student Union offers many services to students including room bookings, student food bank, uPass, tutor registry and health and dental benefits.
Campus Map
The mobile website has a very useful campus map – check it out even if you're not on a phone!
More Back to School
Student Parking
Get your semester parking pass online
Course Calendar
Fall and winter course schedules
Staff Directory
Look up email addresses, office and phone numbers with our staff directory.
Transcripts
Requesting official transcripts is easy – there are 4 ways to do it!
Student Housing
TRU has two on campus housing buildings plus a great online registry to search for off campus accomodations.
Tuition & Fees
The official information is above – if you're looking to pay your fees, login to myTRU and pay online.
Student Employment
Our Career Education department can help you find workstudy positions, information on co-op and they feature online job postings
Homepage
This is where you will most likely start your online adventures.
The Current Students and Our Campus pages have most of the information you'll need to live online.
Search it out
If you can't seem to find what you're looking for, try our Search.
It is located in the upper right-hand corner of every page. It indexes our website (over 30,000 pages and documents) every night.
The What's Going On
TRU News and Events
plus other places for TRU news
The Omega is your student newspaper and the Digital Times is created by TRU Journalism students.
92.5FM The X is our campus and community radio station. It is located on campus and you can listen live online
Student and Staff Blogs
Read what others are posting or sign up for your own campus blog
TRU is on flickr
if you have a cool photo send it and we will post it
International Student Activity Programs
Any student can join ISAP and participate
Living
Housing Resources
Housing for Students at TRU
including the online housing registry
or Craigslist
Jobs
Student Employment & Coop website
including online Job Postings
If you eat meat, we have a meat store on campus
Being a Student
Staff Directory
Looking for an email, phone number, office number?
Try our Staff Directory
Looking for Financial Aid?
Government and Non Government Loans
Scholarships, Bursaries and Awards
Library
The TRU Library has a very extensive website.
See how we look on your phone!
We have a mobile website: punch in m.tru.ca and check out what we have mobile
A Lesson in Lingo
myTRU: where you register, pay, see your schedule, access myTRU email and more. It's like the online cashier and registrars office.
Moodle or myMoodle: an online course tool. Your instructors may use myMoodle in their courses.
Blackboard: another online course tool, formerly known as WebCT.
WebCT: see above.
TRU Online: the old myTRU. myTRU replaced TRU Online so if someone says TRU Online, they mean myTRU. (although some existing and past students can still use TRU Online to look up their grades from previous semesters)
GPA?
How does GPA work? How is it calculated? Read about Grade Point Average on the Admissions website.
Important Dates that you should really pay attention to!
When is my deadline to drop this course?
All official TRU Policies are located on the web
Learn how things work, like attendance, dean's list, course conflicts, course cancellations and many more. Because there is nothing better than knowing more than your instructor
Committees
For the keeners, there are many commmittees on campus that have spots for students
Wouldn't that look good on your resume?
Looking for something out of the ordinary?
Read the Study Abroad website for info on TRU's Exchange program.
Student Clubs
Your student union has the most up-to-date list of TRU clubs
Technical Support
Visit IT Services for information on wireless, network accounts, computer lab availability, equipment loan outs and much more.
More Back to School