Posted on: June 17, 2010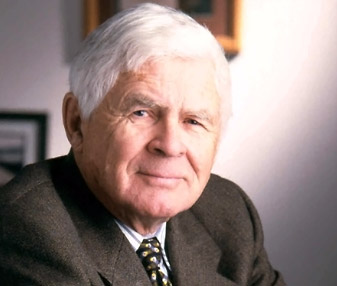 Listen
RadioNL covers the announcement and interviews Irving K Barber.
Thank you to RadioNL for providing this clip
British Columbia's leading benefactor for post-secondary education has announced a gift of $1.5 million to Thompson Rivers University. The major donation will be used to support construction of the university's $32 million House of Learning project.
In recognition of this significant contribution, Thompson Rivers University will name the House of Learning's assembly hall "The Irving K. Barber British Columbia Centre".
"The Irving K. Barber British Columbia Centre", which will be the major focal point of the House of Learning, has been designed in the context of an Interior Salish pit house and will symbolically and practically represent TRU's commitment to the region's vibrant Aboriginal culture.
When completed in January 2011, "The Irving K. Barber British Columbia Centre" will be the largest in-the-round lecture theatre in the province and will feature state of the art technology to support lectures, meetings, symposia and conferences in a setting that will encourage and facilitate interactive dialogue in the tradition of Aboriginal culture.
Dr. Roger Barnsley, President and Vice-Chancellor of Thompson Rivers University said that through the generosity of Dr. Barber, the financial viability of the House of Learning project has been guaranteed. "Our University is honoured and appreciates that the name of Irving K. (Ike) Barber will be a significant part of our University's tradition and heritage forever."
"By its form and function, this assembly hall demonstrates the pride, respect and regard we have for British Columbia's Aboriginal people." Barber said. "It is centrally located and will create a venue where people will talk with each other, not just be "lectured to". Indeed, a place for every individual to contribute, learn and grow!"
"The Irving K. Barber British Columbia Centre" is part of TRU's new House of Learning. This facility is approximately 58,000 sq. ft., and will provide a significant addition to library and learning space for all students on campus, and also incorporate features and facilities to enhance their learning needs. Within the House of Learning, the concept of a learning commons will allow for more student group work and social interaction. This will be TRU's first facility to be LEED Gold Certified.
Contact
Roger H. Barnsley
TRU President and Vice-Chancellor
(p) 250.828.5001