Posted on: May 12, 2010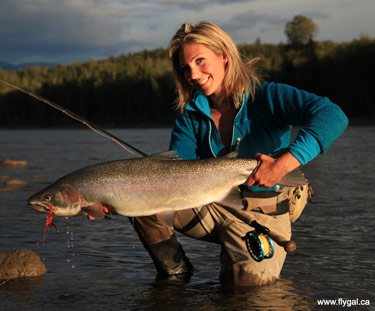 Thompson Rivers University, Open Learning (TRU-OL) is pleased to announce the winner of it's first ever tuition credit contest entitled Grow Your Education, Compete to Complete, which ran from January 29-April 18, 2010.
April Vokey, of Chilliwack, BC, was randomly selected out of 151 contestants, as the winner of TRU-OL's Compete to Complete contest which awards her with full sponsorship of fees related to up to 60 TRU-OL credits that can be used towards the completion of her post-secondary credential, a prize valued at up to CAN $9,500.
In order to increase her chances of winning, Vokey spread the word about the contest by inviting friends to join both the Facebook Contest page she created, entitled The Importance of Education as Learned by April Vokey – A Contest, as well as TRU-OL's Facebook profile page. Vokey's call for support echoed the goal of the contest which is to recognize the importance of post-secondary education and the difference it can make to one's life and future.
"For almost ten years I have been plagued that I never finished my Business degree upon leaving high school," Vokey writes on her Facebook Contest Page. "It has been an obstacle for me in more ways than I ever could have imagined and I vowed to one day to complete it."
Cameron Beddome, Chief Recruiting Officer, TRU-OL, said that Vokey's story perfectly exemplifies the fact that the need to follow through with educational goals can greatly impact an individual's life. This is exactly what Open Learning addresses by offering open access to educational that allows learners to study at a pace and place that suits them regardless of their lifestyle and obligations.
"I would like to thank everyone that competed in this contest," Beddome said. "The stories that were shared clearly articulate the difference that a post-secondary education can make in one's life and future."
"I would like to congratulate April on winning the contest," Beddome added. "I personally look forward to following April's learning experience with TRU, Open Learning and seeing the difference it makes in her life."
Every friend that Vokey's contest page had in common with TRU-OL's Facebook profile page equalled one contest entry for the random draw. She was more than successful at enticing Facebook friends to support her in the contest. By April 18, Vokey had a following of 1,390 group members, just shy of the 1,500 maximum entries allowed per contestant.
Countless of Vokey's Compete to Complete fans and friends know her as the "steelhead stalker" through FlyGal, the company where she teaches fly-fishing and hosts fly-fishing adventures. In addition to working as a fishing guide and certified casting instructor in the Fraser Valley, Vokey is the West Coast Editor for the Canadian Fly Fisher magazine and a fly-fishing columnist for several other fishing magazines.
It was in part through this celebrity in the world of fly fishing that Vokey gained much of her very enthusiastic support. Whether from fishermen and women or friends who have experienced the power achieved by returning to education, Vokey's Facebook wall is filled with words of encouragement.
"As fishermen, all of us will gladly support you (Vokey) as you work to achieve this endeavour," Steve Ayers, one of Vokey's Facebook friends, writes. "Good Luck, and don't ever hesitate to ask us for favours – people are put in people's lives for a reason."
Lisa Rice writes "as someone who has returned to school recently to finish a degree I started over nine years ago and never finished, I have never felt better in my life. You go girl! Skies the limit. Best of luck to you!"
While Vokey was "born with an unexplainable passion for fishing" and has "made it her mission to encourage and introduce aspiring anglers to the sport in hopes that it will bring them as much pleasure as it has brought her," guiding the sport is not something that she sees herself doing forever.
"There are days when my body feels old and I ache with pains in my feet, back and knees. It is during these days that I question where my future will lead me," Vokey writes on her Facebook contest wall. "Can I be a fishing guide forever? Probably not. Can I be a business owner as long as I'm alive and breathing? Well, I sure hope so!"
Studying towards the business degree that she began years ago, with the help of the funds she receives from this contest, will give her a "fighting chance" at completing her education and gaining the future that will lead her to the perfect destination where passion, work and health flow together.
View the video highlighting the award winning announcement to April Vokey here.
Contact
Richard Baldelli
Web Services Manager
Thompson Rivers University, Open Learning
(p) 250.852.6894
(e) rbaldelli@tru.ca